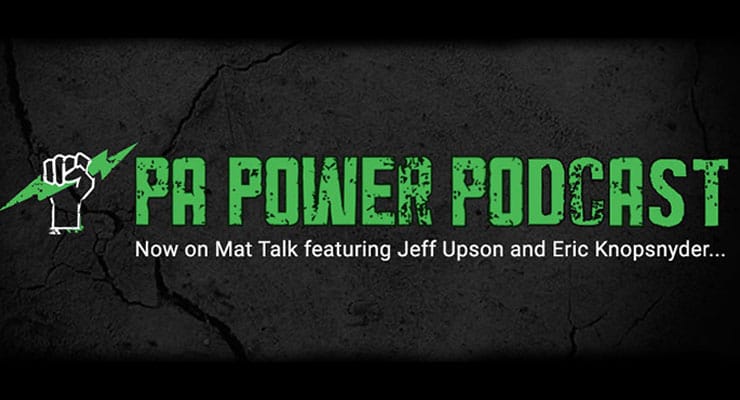 Podcast: Play in new window | Download | Embed
Subscribe to this show via: Apple Podcasts | Google Podcasts | RSS
PAP26: The PA Power Wrestling pair Jeff Upson and Eric Knopsnyder return from Fargo and give a recap on Team Pennsylvania's performance and the State of Freestyle/Greco-Roman Wrestling in the Keystone State.
They breakdown a seven year average on All-Americans from PA and discuss what the PAWF can do to improve numbers. Guest John Strittmatter of Young Guns Wrestling Club joins the show to talk about Fargo and it's importance. Wrapping-up rising senior Josh Stillings of Pennridge reveals his top four school list.
Show Breakdown
01:45 – Thoughts on Fargo
04:30 – Ben Askern Punked Eric in Fargo
07:50 – Carter Starocci is really good
10:57 – Cadet Freestyle recap
19:55 – Cadet Greco recap
22:48 – Junior Freestyle recap
35:35 – Junior Greco recap
37:15 – Women's Cadet and Junior recap
43:40 – Fargo by the numbers for Team PA
47:30 – Twitter Poll on why you didn't wrestle in Fargo
53:00 –  Current State of PA Freestyle/Greco Wrestling
01:10:10 – Guest John Sttrittmatter on the PAWF and improving
01:35:20 – Josh Stillings releases his top four schools
01:46:10 – Fargo Photos on Smugmug
Subscribe to the PA Power Podcast on iTunes today and give us a review! Follow @PAPowerWrestle for all your Pennsylvania Wrestling needs!
Subscribe to the PA Power Wrestling Podcast and listen anytime
iTunes | Stitcher Radio  |  Spreaker | Google Play Music | SoundCloud | RSS