The RUDIS Podcast #148: Coach Bolyard on Program Cuts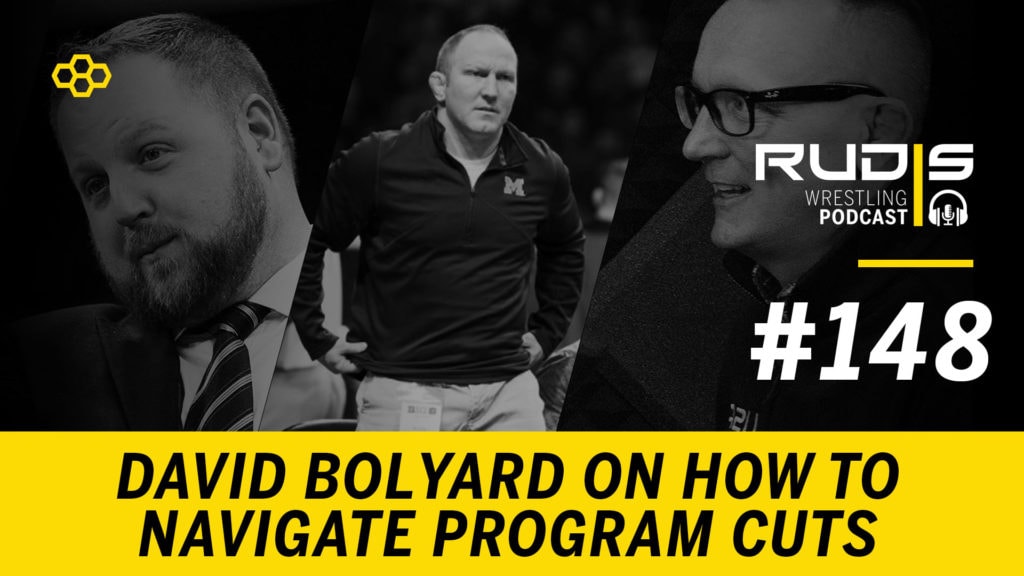 On this episode of the RUDIS Wrestling Podcast, Matt Dernlan and Jason Bryant are joined by former Eastern Michigan head wrestling coach and current volunteer assistant coach at the University of Michigan, David Bolyard. Bolyard held the reigns on one of the most successful EMU wrestling programs in recent history before the program was cut in April of 2018. That season, EMU boasted its first All-American in wrestling since 1999, with Sa'Derian Perry placing eighth at 141 pounds, after qualifying a program-high five wrestlers for the NCAA Wrestling Championships. Weeks after the culmination of the season, Athletic Director Scott Wetherbee alerted Bolyard that his program would be cut, along with a few other Olympic sports.
In light of Old Dominion University cutting its wrestling program earlier this month, the three discuss what it's like for a head coach when their program is cut by the university, the steps taken after the fact, and how to move forward. They also break down cutting weight, the University of Michigan's roster this year, as well as what there is to look forward to in the future for the Wolverines.
SHOW NOTES
0:00 Show Introduction
0:45 Michigan's Past Season
10:35 Cutting Weight
20:35 Coaching a Program That Gets Cut
28:45 Does Cutting Wrestling Really Save Money?
37:25 Tom Borelli
43:20 Michigan's Future
SUPPORT THE SHOW
And if you're a fan of the extensive and broad-based reach of the shows on the Mat Talk Podcast Network,
become a TEAM MEMBER today
. There are various levels of perks for the different levels of team membership. If you like wrestling content — scratch that — if you LOVE great wrestling content, consider becoming a team member. You'll get some cool stuff too.
Looking to start a podcast of your own?
Get a free month with Libsyn
by using the promo code MTO when you sign up. You'll get the remainder of the month from when you sign up as well as the next month free. It'll be enough time to kick the tires and lights some fires.