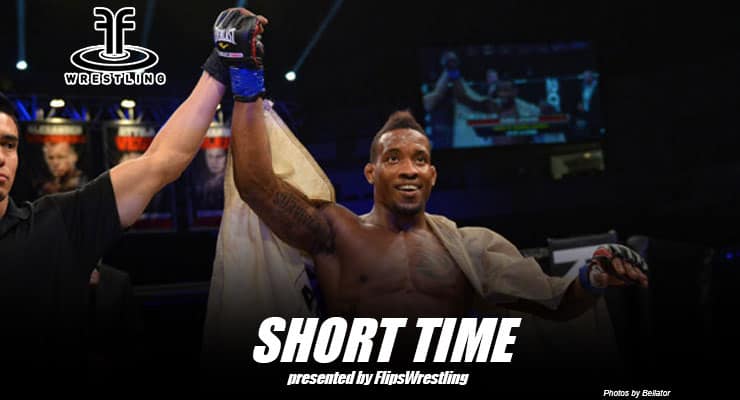 Podcast: Play in new window | Download | Embed
Subscribe to this show via: Apple Podcasts | Spotify | iHeartRadio | TuneIn | RSS | More
Virginia Beach native Bubba Jenkins has had a tumultuous life leading into his NCAA Division I championship a few years back. After putting the wrestling shoes away (at least for the most part), he joined the world of MMA. Now he's rising up the ranks in Bellator MMA and is on a four-fight win streak after beating Thiago Meller at Bellator 126.
On Episode 108 of the Short Time Wrestling Podcast, we visit with "The Highlight Kid" to talk about his progression in MMA, life being a new father, his transition and his career goals.
Jenkins also touches on his opinion of Ben Askren's snub by the UFC, where he's improved as a fighter, learning how to matchup with different fighting styles and how much he wants a rematch with LaRue Burley, who gave Jenkins his first MMA loss back in September of 2013 at Bellator 100.
When we shifted the conversation to wrestling, Jenkins discussed the hurdles he faced in high school and dealing with bad choices, his recognition at a recent Arizona State football game, how much he roots for David Taylor and of course, his affinity for crab legs — which he purchases unlike some other athletes.
We also get some insight from Bubba on his best high school wins, his favorite college matches and who he'd want to fight in the world of MMA.
Check Bubba out at www.gobubbajenkins.com
The Short Time Time Wrestling Podcast is proudly sponsored by Flipswrestling. Share your attitude and be heard at Flipswrestling.com.