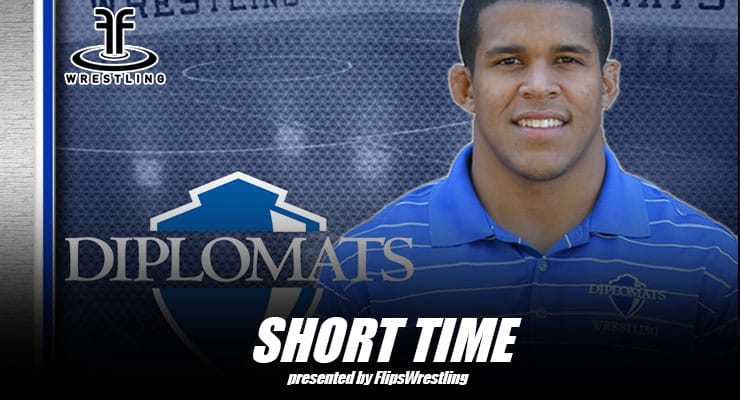 Podcast: Play in new window | Download | Embed
Subscribe to this show via: Apple Podcasts | Google Podcasts | Spotify | iHeartRadio | Stitcher | TuneIn | RSS | More
When Nestor Taffur walked off the mat in Oklahoma City after falling to Rutgers' Anthony Perrotti in the Round of 12, he walked off the mat as the very last competitive wrestler in the sport of wrestling for Boston University.
The New Jersey native had proposed to his then-girlfriend earlier in the tournament, so it was a spectrum of emotion. As Taffur realized the program he'd given so much to was about to go away, he spent more and more time with his college coach, Carl Adams, and realized he wanted to be a coach.
In Episode 107 of the Short Time Wrestling Podcast, the news is positive for Taffur, who recently joined the coaching staff at Franklin & Marshall College in Lancaster, Pennsylvania under head head coach Mike Rogers. It's Taffur's first coaching job and it's at a place he nearly found himself competing for coming out of high school.
Taffur talks about his excitement and anticipation to help the Diplomat wrestling program, which recently received a $5 million dollar endowment, preserving the wrestling program at the tiny private Liberal Arts school that's Division III in every other sport (save squash).
Taffur also goes into detail on his feelings about the Boston University administration and how it stripped him and his teammate of having a school they could go back to, cheer on and potentially even donate. It's a retrospective about the past and a prospective of the future, chock full of candid responses and sound-off moments.