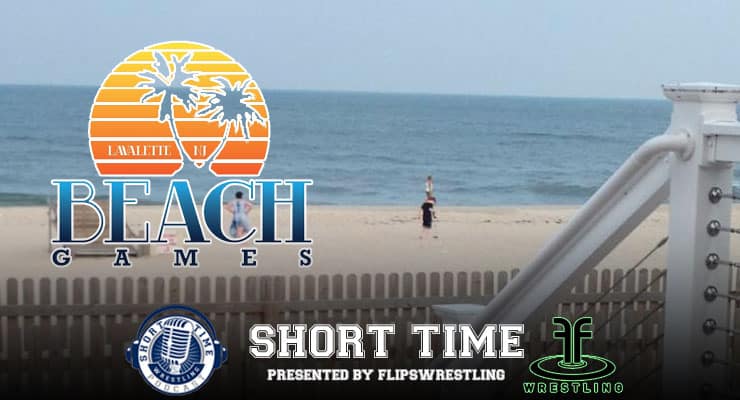 Podcast: Play in new window | Download | Embed
Subscribe to this show via: Apple Podcasts | Google Podcasts | Spotify | iHeartRadio | TuneIn | RSS | More
It'll be a big week coming up in New Jersey as Flipswrestling will host the Beach Games on the shore of the Atlantic Ocean from Sept. 22-24. The event is aimed to educate and inform senior-level wrestlers about things they need to capitalize on the world of being a professional athlete.
On Episode 205 of the Short Time Wrestling Podcast, FlipsWrestling big gun Don Beshada and Compound's Cliff Fretwell talk about their new merger and the idea behind the Beach Games and just exactly what this event is going to bring to the community. While it's small and more or less a team-building style of "retreat" with seminar sessions and games, the idea is to create something that's fun and educational without the seriousness of a board room, but all the knowledge from within one.
Leave a voicemail for the show by checking out our contact page. Your listener feedback could be played back and answered on an upcoming episode of Short Time.
SUBSCRIBE TO SHORT TIME
iTunes | Stitcher | Spreaker | iHeartRadio | TuneIn | SoundCloud | iOS App | Android App | RSS
Almanac Time!
Get the Cadet & Junior Nationals All-American Almanac, a 219-page digital download. It's available now and if you use the promo code "JB" you'll save $5 off the cover price. It's got every All-American EVER in Fargo (and the locations that were before Fargo) and every breakdown by year and state. Oh, you know this guy who says he placed at Juniors? Fact check him or her quickly by buying one now!
And if you haven't already, leave a rating and a review on iTunes.
The Short Time Time Wrestling Podcast is proudly sponsored by Flipswrestling. Share your attitude and #BEHEARD at Flipswrestling.com.
Contribute
And if you're a fan of the extensive and broad-based reach of the shows on the Mat Talk Podcast Network, become a contributor today.. There are various levels of perks for the different levels of patronage. If you like wrestling content — scratch that — if you LOVE great wrestling content, consider becoming a contributor. How much you give is solely up to how much you believe it's worth to you.
Looking to start a podcast of your own?
Get a free month with Libsyn by using the promo code MTO when you sign up. You'll get the remainder of the month from when you sign up as well as the next month free. It'll be enough time to kick the tires and lights some fires.