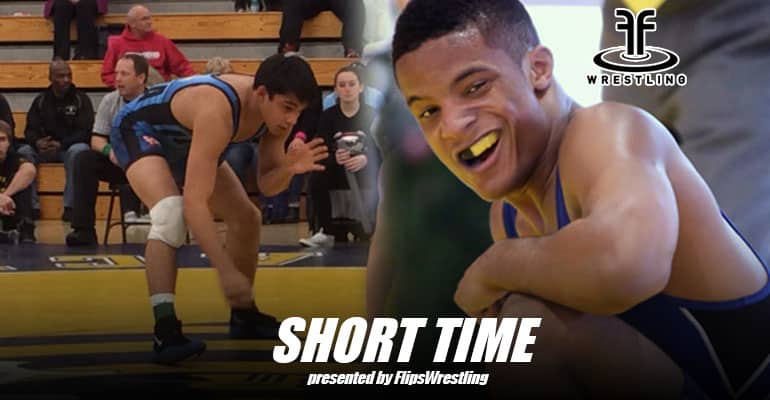 Podcast: Play in new window | Download | Embed
Subscribe to this show via: Apple Podcasts | Google Podcasts | Spotify | iHeartRadio | Stitcher | TuneIn | RSS | More
While it wasn't full-on crazy this weekend, we certainly had our share of notable upsets, what the heck moments and yes … the Tampa Bay Buccaneers losing yet again. It's tough being a Bucs fan, but then again, I was a Bucs fan during the creamsicle days, so I know what it's like to be the only Bucs fan sitting alone at a table, looking at the bottom of an empty glass.
Instead, I was proactive. I shunned the Bucs, happy with an atrociously ugly football win by ye olde alma mater on Saturday against some school in Fort Lauderdale that doesn't have a wrestling program. That makes the meaningless on my college sports landscape.
On Sunday, I ventured South to Rochester, Minnesota to check out my first high school wrestling of the season, the InterMat JJ Classic. Yes, you're right, seemingly every important wrestling event outside of the state championship seems to happen in Rochester. There's the Minnesota Christmas Tournament, The Clash, sometimes the NJCAA national championships are there. Oh, and Mike Busch State Farm is there. Home. Life. Auto. Mike Busch is your man. His mustache will give Andy Bisek's a run for its money. No, Mike's not a sponsor, just a longtime friend. Anytime I can mention Mike in anything wrestling related, it makes me smile.
Anyway, as I was saying, I was down for the InterMat JJ Classic, my first gig after basically becoming independent last week. If you want a bit of a rundown about why I decided to focus more on the Mat Talk Podcast Network, read my blog at mattalkonline.com/blog10. I won't take up too much of your time with nonsense, because Andrew Hipps of InterMat's using this to feature two of the interviews I did with champions at the JJ Classic, Mark Hall and Fredy Stroker.
If you listen carefully, you'll even hear young Mr. Hall give us his top six college choices as it stands right now. We already know Stroker's Minnesota Bound, no, not the show Minnesota Bound, which comes on right after the late local news here on Sunday. If you're a hunter, you'd dig it.
And I've got to give Andrew Hipps of InterMat a tip of the cap. This is the fifth year he's run the JJ Classic. It's not about setting rankings or being a huge mega tournament. Hipps wanted to create a tournament to honor is friend Justin "J.J." Kukowski, who passed away from brain cancer in 2007. All proceeds from the event went to the Justin Kukowski Center, a cancer support center in the Twin Cities. Great cause. Kudos to everyone who showed up.
STROKER INTERVIEW at 8:41
HALL INTERVIEW at 11:43
Now to the mats:
First up, the NYAC's not know as the NYAC anymore, at least not the tournament as it was renamed the Bill Farrell International in honor of the late, great Bill Farrell. I won't fill your ears with stories about how Bill was this and that, because I only got to know the man very late in his life. Dan Gable once told a story about his famous quote, "Once you've wrestled, everything else in life is easy," and the hook to that story was he thought he might have stolen it from Bill Farrell!
With freestyle on the mats on Sunday, there were some real eye-opening results.
At 57kg, Northern Iowa grad Joe Colon of Titan Mercury won gold, beating the NYAC's Danny Mitcheff 13-6. Mitcheff upended Sam Hazewinkel in the quarters and pinned Andrew Hochstrasser in the semis, while Colon beat the NYAC's Brandon Precin in the semis and Angel Escobedo of the NYAC in the quarters. Nice day for Joe.
At 61kg, foreign wrestlers went 1-2-3 with Titan Mercury's Kyle Hutter finishing fourth. At 65kg, Jason Chamberlain beat freestyle novice Evan Henderson 8-3 in the finals. Henderson didn't wrestle in Fargo, but it's a strong freestyle showing for sure. He's redshirting this year for North Carolina. Canada's Haislan Garcia beat Adam Hall 3-1 in the finals at 70.
Hey Huskie up for Bloomsburg grad Richard Perry. Never an All-American in college, Perry beat 2012 Olympic silver medalist Jaimie Espinal of Puerto Rico, Austin Trotman and Deron Winn to win the tournament at 86kg. Might as well give his home state of Connecticut some props while we're at it. Enock Francios won at 97kg, beating Canada's Manjot Sandhu 10-4 in the final.
At 125kg, Tyrell Fortune topped Dom Bradley 3-1.
Greco-Roman and women's freestyle went on Saturday. Alejandro Sancho captured gold for the U.S. at 66kg while Kendrick Sanders came out of hiding to wrestle at 71kg. He beat Bo Beckman 8-0 to claim the title there. Sanders no-showed at the Phase II trials of the World Team Trials. We hadn't really heard much from him since. Ben Provisor captured gold at 80kg, winning a round robin. Americans went 1-2-3 at the weight.
The Army's Jon Anderson bumped up two weights and won gold at 85kg, beating Zac Nielsen of the Minnesota Storm 4-1 in the final.
On the women's side, Alyssa Lampe topped Victoria Anthony 5-0 in an all-American final at 48kg. A breakthrough win came at 55kg where Campbellsville University freshman Kayla Miracle topped Jacarra Winchester 10-4 in the finals. Miracle's big win came in the semis when she teched world bronze medalist Jillian Gallays of Canada 12-2. Randi Miller won gold at 69kg beating Veronica Carlson 4-1. It was another all-USA final at 75kg, where Jackie Cataline topped Brittney Roberts 6-0 in the finals. Roberts got to the finals with a 1-1 criteria victory over recent world silver medalist Aline Da Silva of Brazil in the semis.
Getting to action on the college mats, fifth-ranked Penn State stopped Lehigh 24-10 with Penn State's Jimmy Gulibon picking off Lehigh's Mason Beckman 8-3 at 133 pounds.
Illinois went 3-0, beating Rider, SIU-Edwardsville and Northern Illinois. Notable from that quad was SIU-Edwardsville picking up its first win over Northern Illinois in 22 years with a 20-18 dual win. Props to Jeremy Spates and the Cougars.
George Mason shocked Maryland 17-16 on criteria. Heavyweight Jake Kettler came through with a 12-6 decision over Sean Twigg at heavyweight. The difference was match points on criteria C, which went in favor of Joe Russell's Patriots 59-55.
Bunch of open tournament results to throw at you, but the most notable upset came from the Hokie Open as Sal Mastriani of Virginia Tech beat teammate and returning NCAA finalist Devin Carter 6-4 in sudden victory at 149 pounds. Another big upset came on Saturday as the Air Force's Jesse Stafford topped Nebraska's Austin Wilson and then beat All-American Isaac Jordan of Wisconsin in the finals of the Cowboy Open. Then of course there's Saturday's injury default by Minnesota's Scott Schiller against South Dakota State's Nate Rotert. Schiller was down 2-0 at the time of the first-period injury default.
Yup, I'm glad I'm not doing the rankings this week.
So enough babbling. I got a chance to catch up with Fredy Stroker and Mark Hall at the InterMat JJ Classic. Here are those two interviews on Short Time.
The Short Time Time Wrestling Podcast is proudly sponsored by Flipswrestling. Share your attitude and be heard at Flipswrestling.com.