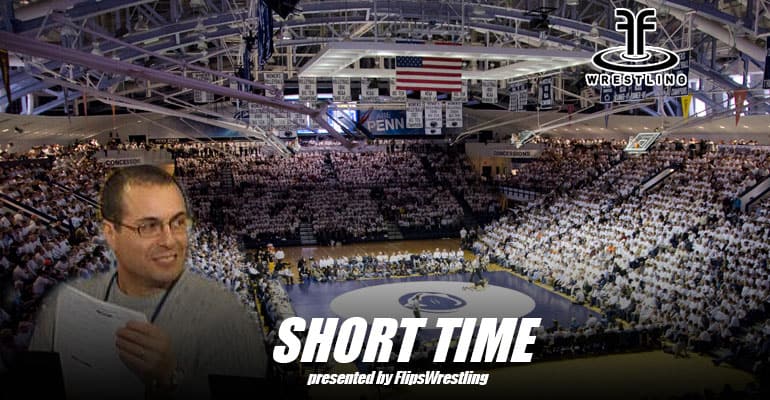 Podcast: Play in new window | Download | Embed
Subscribe to this show via: Apple Podcasts | Spotify | iHeartRadio | TuneIn | RSS | More
We had some milestones on Thursday, November 13. Big program wins, new eras beginning and of course a reference to the Fargo-Moorhead metropolitan area.
Oregon State achieved a milestone few teams in the sport of wrestling have eclipsed. The Beavers picked up the program's 1,000th dual meet victory with a 43-6 win over NAIA Southern Oregon. Oregon State joins Iowa State and Oklahoma State as the only three programs in college wrestling with 1,000 wins. Tip of the cap to Jim Zalesky and past coaches Joe Wells and Dale Thomas, all of whom picked up the lion's share of victories since 1957. Thomas coached 34 years and gave Oregon State 616 of those 1,000 victories. The victory was also Zalesky's 100th in Corvallis.
Fourth-ranked Ohio State rolled past Kent State 38-3. The highlight matchup there came at 157 pounds and it wasn't much of a highlight as returning All-American Ian Miller of Kent State was forced to injury default in his match against Josh Demas. Even without Hunter Stieber and Bo Jordan, the Buckeyes rolled. Redshirt freshman Nathan Tomasello made his home debut a big one with a 20-5 technical fall over Del Vinas. Fellow freshman Kyle Snyder picked up a strong 11-6 win over Cole Baxter at 197.
In a battle of Sunkist Kids, Arizona State and coach Zeke Jones topped West Virginia and coach Sammie Henson 19-13 in Morgantown. The Sun Devils jumped out to a 15-0 lead after winning the first five matches. Dalton Brady's major decision at 133 pounds over returning NCAA qualifier Corey Stainbrook iced the dual for the Sun Devils. The redshirt is also off for true freshman Zeke Moisey of West Virginia. After strong outings in the first two open weekends of the year, Moisey majored Judson Preskitt 12-2 at 125 pounds.
Elmhurst got a major decision from heavyweight Zack Urbanski to rally past No. 12 Wheaton 22-21 in Division III. As we mention frequently, these two programs are coached by some notable names in wrestling. Elmhurst is coached by Steve Marianetti, while Wheaton's led by Jim Gruenwald.
Elsewhere, St. Olaf topped Wisconsin-Eau Claire 27-14 in a Division III dual, while Division II Seton Hill topped Division III Washington & Jefferson 23-12 in Western Pennsylvania. Wabash beat Olivet 33-7 and North Central beat Chicago 25-12, those also in Division III. It was first-year coach Joe Norton's first win as the head coach at North Central.
NAIA St. Andrews picked up a 21-15 win over Division II Belmont Abbey. Brandon Dills' 11-8 win over Patrick Argast gave the Knights the clinching victory at 184 pounds.
Speaking of the NAIA, No. 3 Great Falls jumped out to a 25-0 lead on No. 6 Montana State-Northern in the battle of Montana, but held on to take a 28-21 victory. Top match there was at 174 pounds where returning NAIA runner-up and second-ranked Jared Miller of MSU-Northern topped fifth-ranked and returning All-American Shawn Lau 9-4.
In JUCO action, defending national champions Northeastern Oklahoma A&M shut out Pratt 51-0.
Of note from Wednesday, the battle of Moorhead took place with Concordia topping Minnesota State-Moorhead 22-13. This means Kris Nelson now has to buy Matt Nagel dinner at Chumleys. Oh wait, NO ONE EATS AT CHUMLEYS! No one should go the bathroom there either.
Now when you need to talk wrestling with anyone at Penn State, you've got to go through their award-winning Sports Information Director Pat Donghia.
Donghia has been working in college athletics for nearly 25 years and he talks about the rise of Penn State wrestling, the transition between Troy Sunderland and Cael Sanderson and how Donghia's love for wrestling started when he was working at Edinboro and then Lock Haven.
Donghia talks on a number of topics, including handling the football scandal a few years ago, the demand on athletes now that Penn State has become a national power and how they deal with social media. Donghia also explains what sports information and media relations is, and what it isn't.
It's an informative breakdown with one of the pros, Pat Donghia on Episode 120 of the Short Time Wrestling Podcast.
The Short Time Time Wrestling Podcast is proudly sponsored by Flipswrestling. Share your attitude and be heard at Flipswrestling.com.