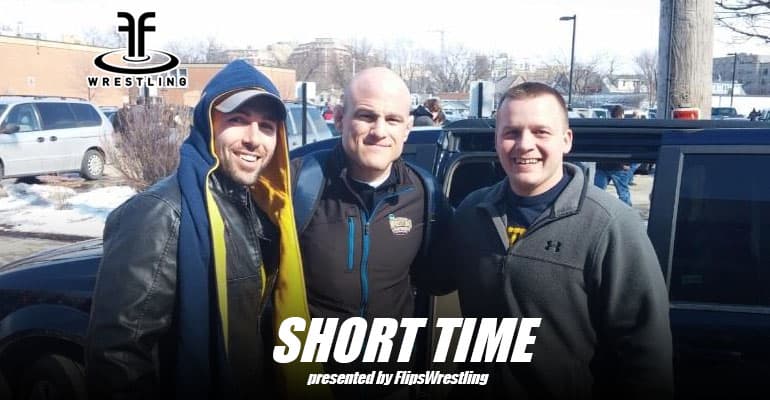 Podcast: Play in new window | Download | Embed
Subscribe to this show via: Apple Podcasts | Google Podcasts | Spotify | iHeartRadio | Stitcher | TuneIn | RSS | More
With the rise of podcasts like "Serial," the medium is starting to get some mainstream appeal. While the Mat Talk Podcast Network has been adding programming to the wrestling podcasting landscape, so have two wrestling fans from Michigan.
Tommy Baranoski and Kevin Claunch started the Bloodround Podcast in September. In addition to the podcast, the two also post blogs and amusing stuff on their home page at Bloodround.com.
On Episode 131 of the Short Time Wrestling Podcast, it's an entertaining discussion about why two wrestling fans just started a fan podcast, why they don't take themselves seriously and why they love the sport of wrestling. We also talk about nerdy things like recorders and other podcasts we listen to.
Short Time will also present a new listener feedback featured called Sound Off. Listeners can go to www.mattalkonline.com/contact and leave an audio message of a topic that concerns them in wrestling, a shout out to a great performance or leave general feedback for the wrestling community. If your Sound Off file hits the right note, it could be featured in an upcoming episode of Short Time. Be sure to leave your name and location in your recording. Sorry folks, no anonymous or nameless submissions will be accepted.
And if you haven't already, head to www.mattalkonline.com/getshorttime to leave a rating and a review on iTunes.
The Short Time Time Wrestling Podcast is proudly sponsored by Flipswrestling. Share your attitude and be heard at Flipswrestling.com.