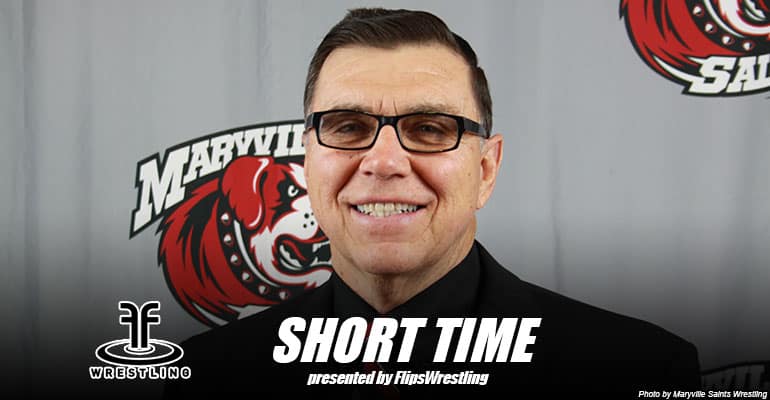 Podcast: Play in new window | Download | Embed
Subscribe to this show via: Apple Podcasts | Spotify | iHeartRadio | TuneIn | RSS | More
In just the fourth year of wrestling at Maryville University, coach Mike Denney led his Saints to the championship at the NWCA Division II National Duals in Fort Wayne, Indiana.
Denney, who's patrolled the edge of the mat as a wrestling coach at the college and high school level for nearly a half-century, won seven Division II titles as the head coach at Nebraska-Omaha.
When Denney's UNO program won its third straight Division II title in 2011, his program was unceremoniously dropped by UNO administrators with new Athletic Director Trev Alberts leading the charge.
Then Maryville came calling, literally, days after the announcement.
After packing up Omaha and the house he lived in for 37 years, Coach Denney and a handful of other UNO castoffs headed to St. Louis to start a wrestling program. Denney calls it a "delightful challenge."
Four years later, the Saints are No. 1 in Division II.
Denney talks about the scenario that led to coming to Maryville, his dreams of competing in the NFL and his semi-pro football career in Omaha and then on to coaching and building a culture at Maryville and previously, at "that other place."
The Saints beat Notre Dame College for the Division II championship and Denney explains how he built the program and what it's going to take to win the Division II title this year.
It's an engaging, informative and engaging interview with one of the most amazing coaches in the sport of wrestling, Maryville's Mike Denney.
Short Time will also present a new listener feedback featured called Sound Off. Listeners can go to www.mattalkonline.com/contact and leave an audio message of a topic that concerns them in wrestling, a shout out to a great performance or leave general feedback for the wrestling community. If your Sound Off file hits the right note, it could be featured in an upcoming episode of Short Time. Be sure to leave your name and location in your recording. Sorry folks, no anonymous or nameless submissions will be accepted.
And if you haven't already, head to www.mattalkonline.com/getshorttime to leave a rating and a review on iTunes.
The Short Time Time Wrestling Podcast is proudly sponsored by Flipswrestling. Share your attitude and be heard at Flipswrestling.com.