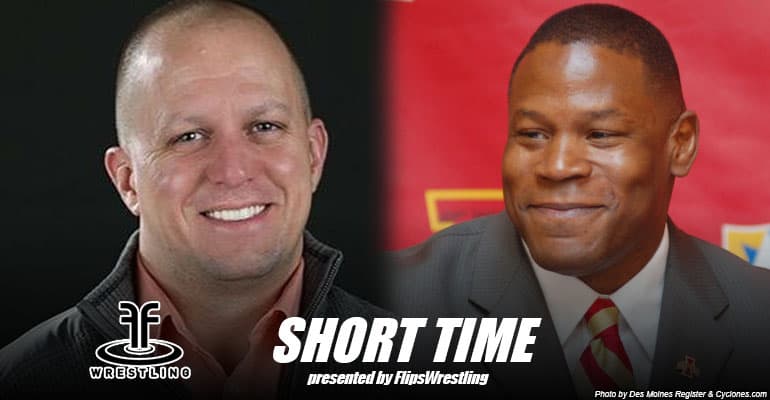 Podcast: Play in new window | Download | Embed
Subscribe to this show via: Apple Podcasts | Spotify | iHeartRadio | TuneIn | RSS | More
It was a trip down to Ames, Iowa for the Virginia Tech vs. Iowa State dual and our first introduction to the Beauty and the Beast concept.
Yes, the floor of the Hilton Coliseum was covered with gymnastics equipment and a wrestling mat. Iowa State's women's gymnastics team held a triple dual with Oregon State and Southeast Missouri. It was an interesting concept and experience.
On Episode 136 of the Short Time Wrestling Podcast, I'll give my feedback on the type of event Beauty and the Beast was, and we'll hear from Iowa State coach Kevin Jackson about the Cyclones 21-12 upset over No. 6 Virginia Tech.
We'll then talk college wrestling with one of the sport's best scribes, Andy Hamilton of the Des Moines Register. We'll talk about this season and a little bit about how Andy broke into the business and why he loves covering wrestling.
Short Time will also present a new listener feedback featured called Sound Off. Listeners can go to www.mattalkonline.com/contact and leave an audio message of a topic that concerns them in wrestling, a shout out to a great performance or leave general feedback for the wrestling community. If your Sound Off file hits the right note, it could be featured in an upcoming episode of Short Time. Be sure to leave your name and location in your recording. Sorry folks, no anonymous or nameless submissions will be accepted.
And if you haven't already, head to www.mattalkonline.com/getshorttime to leave a rating and a review on iTunes.
The Short Time Time Wrestling Podcast is proudly sponsored by Flipswrestling. Share your attitude and be heard at Flipswrestling.com.