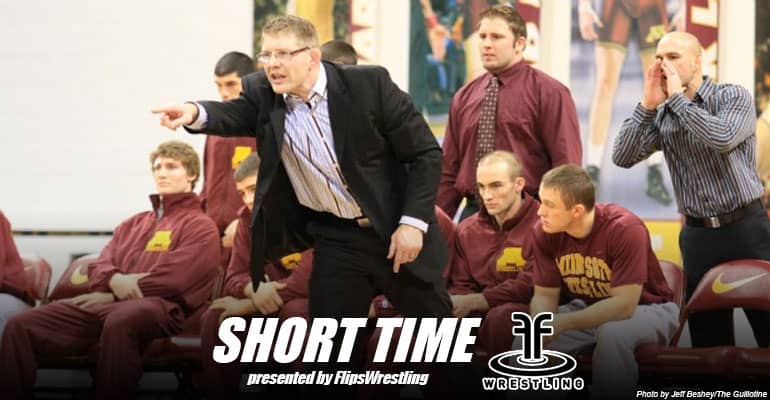 Podcast: Play in new window | Download | Embed
Subscribe to this show via: Apple Podcasts | Google Podcasts | Spotify | iHeartRadio | TuneIn | RSS | More
From now until February 2, we're seeking YOUR nomination for the Short Time Wrestling Podcast to be included in the 10th annual Podcast Awards presented by New Media Expo. Fans can nominate their favorite podcasts in each of over a dozen categories, but they can nominate just once. We hope you enjoy the show enough to nominate the Short Time Wrestling Podcast. Go to www.mattalkonline.com/podcastawards to nominate this show for the Sports Category. Please include the web address, www.mattalkonline.com in the URL field.
Now, on to business as Episode 138 of the Short Time Wrestling Podcast features Minnesota assistant coach Brandon Eggum. The Gophers, ranked second in the USA Today/NWCA Division I Wrestling Coaches Poll, topped fifth-ranked Penn State 17-16 on Sunday, January 25 in Rec Hall.
Eggum answers questions about Chris Dardanes' weight and coming right out of the chute at 133 pounds to start the dual and about the decision to wrestle true freshman Ethan Lizak, pulling the Pennsylvania native out of redshirt for the dual.
We'll also play back some of the audio from the Cael Sanderson postmatch press conference to get the Penn State perspective on the dual. That audio provided by GoPSUSports.com.
Short Time will also present a new listener feedback featured called Sound Off. Listeners can go to www.mattalkonline.com/contact and leave an audio message of a topic that concerns them in wrestling, a shout out to a great performance or leave general feedback for the wrestling community. If your Sound Off file hits the right note, it could be featured in an upcoming episode of Short Time. Be sure to leave your name and location in your recording. Sorry folks, no anonymous or nameless submissions will be accepted.
And if you haven't already, head to www.mattalkonline.com/getshorttime to leave a rating and a review on iTunes.
The Short Time Time Wrestling Podcast is proudly sponsored by Flipswrestling. Share your attitude and be heard at Flipswrestling.com.