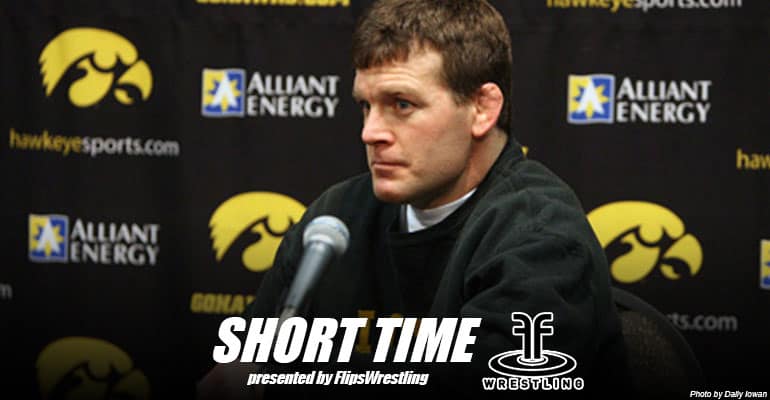 Podcast: Play in new window | Download | Embed
Subscribe to this show via: Apple Podcasts | Google Podcasts | Spotify | iHeartRadio | Stitcher | TuneIn | RSS | More
Episode 140 of the Short Time Wrestling Podcast talks with University of Iowa head wrestling coach Tom Brands.
Penn State is set to host Iowa on February 8 at the Bryce Jordan Center in University Park, Pa., and the Nittany Lion faithful could be on their way to setting another wrestling attendance mark. They set it last year against Pittsburgh, but with Iowa coming to town, the fire marshal might have have to look the other way.
We'll talk with coach Brands about the win over No. 2 Minnesota on Friday, January 30 and some of the key matchups as the Hawkeyes head east.
Brands also talks about his team's participation in the National Duals and why dual meets do matter as well as some memories of his days during the Penn State-Iowa series.
I'll tell you this now as well, we'll have the Penn State viewpoint later in the week on Episode 141 with Cael Sanderson.
Short Time will also present a new listener feedback featured called Sound Off. Listeners can go to www.mattalkonline.com/contact and leave an audio message of a topic that concerns them in wrestling, a shout out to a great performance or leave general feedback for the wrestling community. If your Sound Off file hits the right note, it could be featured in an upcoming episode of Short Time. Be sure to leave your name and location in your recording. Sorry folks, no anonymous or nameless submissions will be accepted.
And if you haven't already, head to www.mattalkonline.com/getshorttime to leave a rating and a review on iTunes.
The Short Time Time Wrestling Podcast is proudly sponsored by Flipswrestling. Share your attitude and be heard at Flipswrestling.com.

SUBSCRIBE TO SHORT TIME
iTunes | Stitcher | Spreaker | iHeartRadio | TuneIn | SoundCloud | RSS