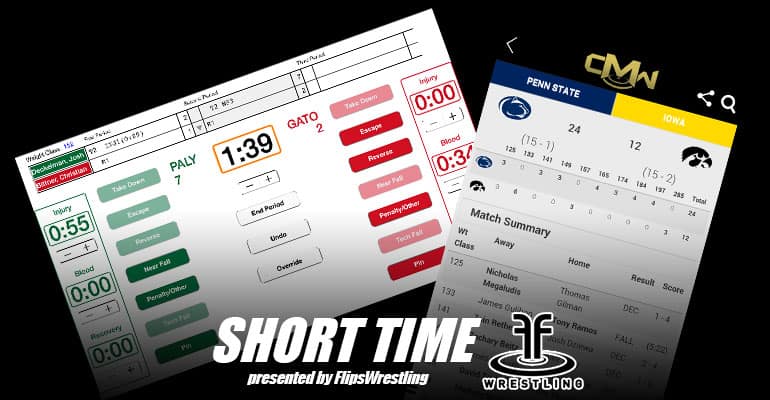 Podcast: Play in new window | Download | Embed
Subscribe to this show via: Apple Podcasts | Google Podcasts | Spotify | iHeartRadio | Stitcher | TuneIn | RSS | More
Technology always changes the way people do things. In wrestling, it's no different. On Episode 146 of the Short Time Wrestling Podcast, I'll talk with two people who are trying to change the sport for the better — one with scoring and the other with information.
Jack Moses launched the Takedown App, an iPad app aimed at saving, preserving and streamlining the scoring of dual meets and team data. Jack's Takedown App and Takedown Live, where fans can follow their teams who use the Takedown App, can be found online at LevelChanger.com.
Jack talks about the idea behind how it got started and where he'd like to see his app used consistently.
A Georgia native, Thomas Kimbrell wrestled at CSU Bakersfield and came up with an idea to put college wrestling results in more of a mobile format. With that in mind, Kimbrell and some friends started developing the Centermat App, available for both iOS and Android at Centermatwrestling.com.
This past season, Kmbrell's app tracked as many dual meets as they could find and will be working to add tournament functionality as the company grows.
SUBSCRIBE TO SHORT TIME
iTunes | Stitcher | Spreaker | iHeartRadio | TuneIn | SoundCloud | RSS
And if you haven't already, head to www.mattalkonline.com/getshorttime to leave a rating and a review on iTunes.
The Short Time Time Wrestling Podcast is proudly sponsored by Flipswrestling. Share your attitude and be heard at Flipswrestling.com.