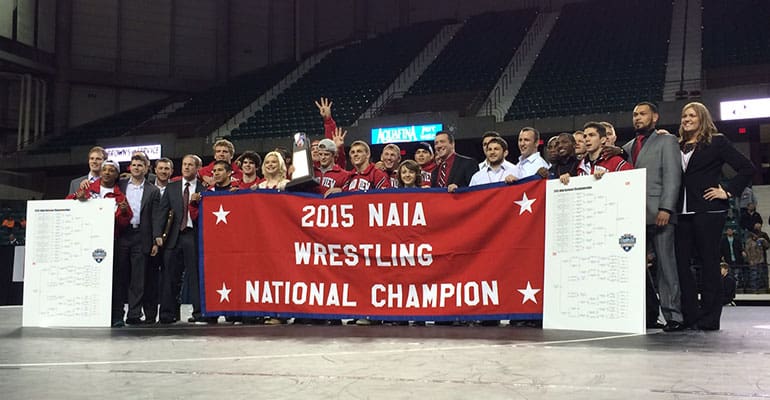 Podcast: Play in new window | Download | Embed
Subscribe to this show via: Apple Podcasts | Google Podcasts | Spotify | iHeartRadio | Stitcher | TuneIn | RSS | More
Hey folks, the Short Time Wrestling Podcast is now available as a standalone app for your Apple iOS devices and Android platforms. That's right, go to www.mattalkonline.com/iosapp to download the FREE app for your iPhone or iPad and if you want to head over to the Google Play store and get the app for your Android devices, go to www.mattalkonline.com/androidapp.
The 58th annual NAIA National Championships came to a close on Saturday, March 7 in Topeka, Kansas and for the fourth straight year, Grand View University captured the team championship.
Powered by nine placewinners and championships from 125-pounder Ryak Finch and 141-pounder Brandon Wright, the Vikings won their fourth title in the program's seventh year of existence.
I caught up with Grand View head wrestling coach Nick Mitchell to talk about this year's team and how tough it was to try to follow last year's record-setting season.
Brock Gutches of Southern Oregon became just the seventh four-time champion in NAIA wrestling history with a major decision victory over Travis McIntosh of Campbellsville in the finals at 174 pounds. Along with Gutches, we picked up some chatter with Joey Cozart, a two-time champion from Lindsey Wilson. Both have extensive Greco-Roman backgrounds.
SUBSCRIBE TO SHORT TIME
iTunes | Stitcher | Spreaker | iHeartRadio | TuneIn | SoundCloud | RSS
And if you haven't already, head to www.mattalkonline.com/getshorttime to leave a rating and a review on iTunes.
The Short Time Time Wrestling Podcast is proudly sponsored by Flipswrestling. Share your attitude and be heard at Flipswrestling.com.