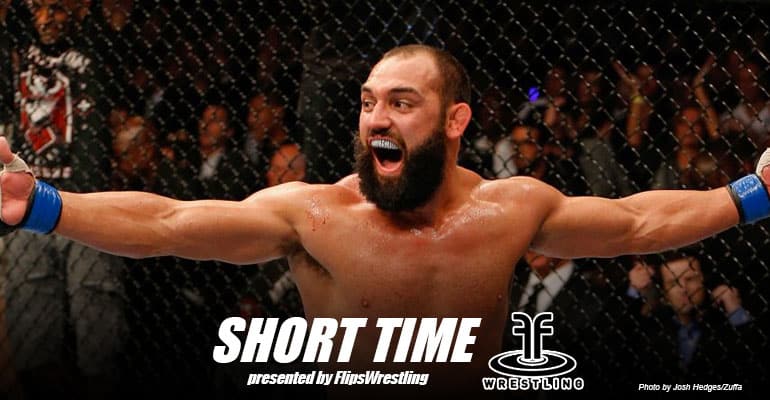 Podcast: Play in new window | Download | Embed
Subscribe to this show via: Apple Podcasts | Google Podcasts | Spotify | iHeartRadio | Stitcher | TuneIn | RSS | More
Hey folks, the Short Time Wrestling Podcast is now available as a standalone app for your Apple iOS devices and Android platforms. That's right, go to www.mattalkonline.com/iosapp to download the FREE app for your iPhone or iPad and if you want to head over to the Google Play store and get the app for your Android devices, go to www.mattalkonline.com/androidapp.
On Episode 151 of the Short Time Wrestling Podcast, we catch up with two-time NCAA wrestling champion Johny Hendricks as he prepares for his upcoming fight at UFC 185 in Dallas against UFC veteran Matt Brown.
We're also running a special promotion in conjunction with Team Takedown. If you buy a shirt from www.johnyhendricks.com between now and fight night, you'll be entered into a drawing to win a pair of autographed Johny Hendricks fight gloves.
We get to the origination of the spelling of his nickname, which believe it or not, comes from World of Warcraft. We'll also talk about how he's been managing his weight and now working again with Kenny Monday. Hendricks looks back at fights with Robbie Lawler and Georges St. Pierre and how those two losses continue to drive him.
Hendricks talks about his days at Oklahoma State and how he had to embrace the bad guy image and how much easier it is now for him to simply be himself. He also addresses the thought of a fight with Ben Askren and we get to the bottom of the alleged All-Star Classic bout that never happened. There's also quite a twist.
SUBSCRIBE TO SHORT TIME
iTunes | Stitcher | Spreaker | iHeartRadio | TuneIn | SoundCloud | RSS
And if you haven't already, head to www.mattalkonline.com/getshorttime to leave a rating and a review on iTunes.
The Short Time Time Wrestling Podcast is proudly sponsored by Flipswrestling. Share your attitude and be heard at Flipswrestling.com.