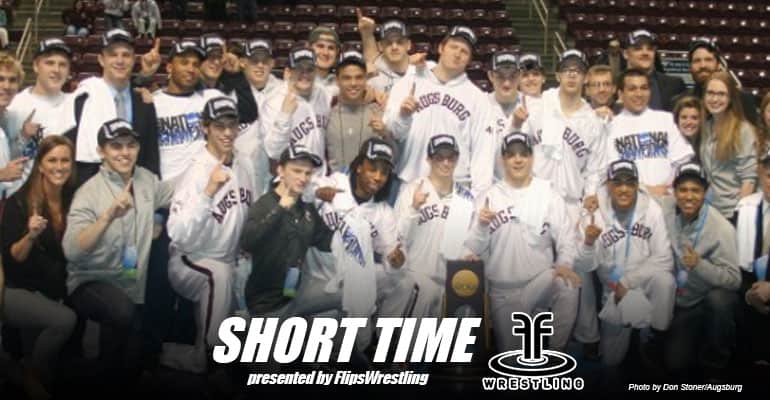 Podcast: Play in new window | Download | Embed
Subscribe to this show via: Apple Podcasts | Google Podcasts | Spotify | iHeartRadio | TuneIn | RSS | More
On Episode 152 of the Short Time Wrestling Podcast, I'll preview the now-release Mat Talk Online Division I Wrestling Championship Fan Guide, which is for sale now. I'll also go on a little rant about why the Division III Wrestling Championships is one of the five most-exciting wrestling tournaments in the world, and then I'll do some interviews.
Augsburg won the school's 12 NCAA Division III Wrestling Championship on Saturday at the Giant Center in Hershey, Pa. The Auggies did it with lots and lots of bonus points. On this episode, I'll catch up with interim head coach Jim Moulsoff and two-time Division III champion and tournament OW Mike Fuenffinger.
Hey folks, the Short Time Wrestling Podcast is now available as a standalone app for your Apple iOS devices and Android platforms. That's right, go to www.mattalkonline.com/iosapp to download the FREE app for your iPhone or iPad and if you want to head over to the Google Play store and get the app for your Android devices, go to www.mattalkonline.com/androidapp.
SUBSCRIBE TO SHORT TIME
iTunes | Stitcher | Spreaker | iHeartRadio | TuneIn | SoundCloud | RSS
And if you haven't already, head to www.mattalkonline.com/getshorttime to leave a rating and a review on iTunes.
The Short Time Time Wrestling Podcast is proudly sponsored by Flipswrestling. Share your attitude and be heard at Flipswrestling.com.