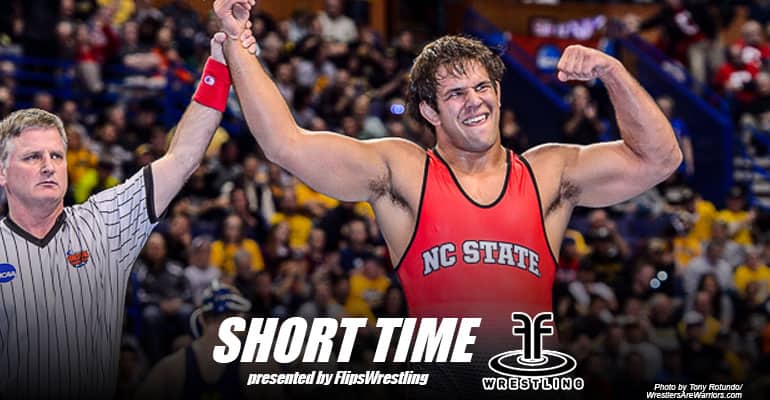 Podcast: Play in new window | Download | Embed
Subscribe to this show via: Apple Podcasts | Google Podcasts | Spotify | iHeartRadio | Stitcher | TuneIn | RSS | More
Back in studio after the lengthy postseason travel. Episode 154 of the Short Time Wrestling Podcast talks with the nation's top big man, two-time NCAA Division I heavyweight champion Nick Gwiazdowski of N.C. State.
Gwiazdowski became a three-time All-American at the 2015 NCAA Division I Wrestling Championships. His second title was a 7-6 win over Michigan's Adam Coon. Gwiazdowski is one of the most active heavyweights in recent memory and his style actually makes people want to watch the heavyweights more than the 2-1 dancing bears many seem to associate with the weight class.
Gwiazdowski talks about his first year at Binghamton, having to face eventual champion Tony Nelson in the first round and wrestling back for eighth place, then the decision to follow coach Pat Popolizio to N.C. State.
Gwiazdowski also breaks down the turning points in the season, his big breakfast following nationals and what the term "Pack Mentality" means to him.
It's a great discussion on wrestling, coaching and life as a heavyweight on Episode 154 of the Short Time Wrestling Podcast.
Hey folks, the Short Time Wrestling Podcast is now available as a standalone app for your Apple iOS devices and Android platforms. That's right, go to www.mattalkonline.com/iosapp to download the FREE app for your iPhone or iPad and if you want to head over to the Google Play store and get the app for your Android devices, go to www.mattalkonline.com/androidapp.
SUBSCRIBE TO SHORT TIME
iTunes | Stitcher | Spreaker | iHeartRadio | TuneIn | SoundCloud | RSS
And if you haven't already, head to www.mattalkonline.com/getshorttime to leave a rating and a review on iTunes.
The Short Time Time Wrestling Podcast is proudly sponsored by Flipswrestling. Share your attitude and be heard at Flipswrestling.com.