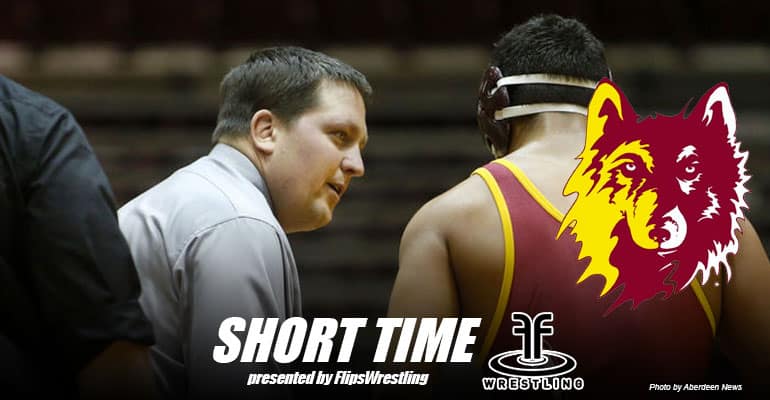 Podcast: Play in new window | Download | Embed
Subscribe to this show via: Apple Podcasts | Google Podcasts | Spotify | iHeartRadio | TuneIn | RSS | More
Pat Timm spent 15 years as the head coach at Division II Northern State University in Aberdeen, South Dakota. When Timm decided it was time to step down, he wanted to make sure he was going to leave the program in good hands and help the search for a new head coach.
Then the administration decided to nix that idea, announcing just days after the close of the Division II wrestling season and two weeks after Timm's resignation was handed in, the program was going to be suspended for two years as the school was going to analyze the long-term viability of the program.
On Episode 155 of the Short Time Wrestling Podcast, I'll talk to Timm about what all that means and how he's now been thrust back into the role of trying to save the program. Information on how to contribute and save the program can be found at DakotaGrappler.com and on the Save Northern State University Wrestling facebook page.
Hey folks, the Short Time Wrestling Podcast is now available as a standalone app for your Apple iOS devices and Android platforms. That's right, go to www.mattalkonline.com/iosapp to download the FREE app for your iPhone or iPad and if you want to head over to the Google Play store and get the app for your Android devices, go to www.mattalkonline.com/androidapp.
SUBSCRIBE TO SHORT TIME
iTunes | Stitcher | Spreaker | iHeartRadio | TuneIn | SoundCloud | RSS
And if you haven't already, head to www.mattalkonline.com/getshorttime to leave a rating and a review on iTunes.
The Short Time Time Wrestling Podcast is proudly sponsored by Flipswrestling. Share your attitude and be heard at Flipswrestling.com.