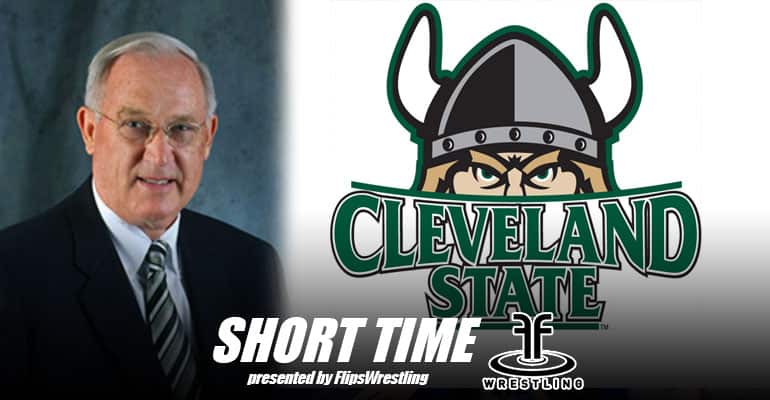 Podcast: Play in new window | Download | Embed
Subscribe to this show via: Apple Podcasts | Google Podcasts | Spotify | iHeartRadio | TuneIn | RSS | More
Unfortunately, this is the second Short Time episode in the same week that deals with a threatened college wrestling program. On Monday, March 30, Cleveland State University announced it was going to discontinue funding of the wrestling program effective after the 2015-16 season. The move would make way for men's lacrosse to enter the varsity athletics picture.
Several things didn't make sense as to why a school would be adding a more expensive sport to its athletic programming and one that wasn't sanctioned as a high school championship sport in the state of Ohio, where Cleveland State draws the majority of its students.
So we set out to get answers on Episode 156 of the Short Time Wrestling Podcast, we'll get some information on the Cleveland State situation with the school's Athletic Director, John Parry.
Parry will address questions about why lacrosse, what wrestling can to do maintain its place on campus and most of all, why a school would start a sport — if there's no funding for it.
Hey folks, the Short Time Wrestling Podcast is now available as a standalone app for your Apple iOS devices and Android platforms. That's right, go to www.mattalkonline.com/iosapp to download the FREE app for your iPhone or iPad and if you want to head over to the Google Play store and get the app for your Android devices, go to www.mattalkonline.com/androidapp.
SUBSCRIBE TO SHORT TIME
iTunes | Stitcher | Spreaker | iHeartRadio | TuneIn | SoundCloud | RSS
And if you haven't already, head to www.mattalkonline.com/getshorttime to leave a rating and a review on iTunes.
The Short Time Time Wrestling Podcast is proudly sponsored by Flipswrestling. Share your attitude and be heard at Flipswrestling.com.