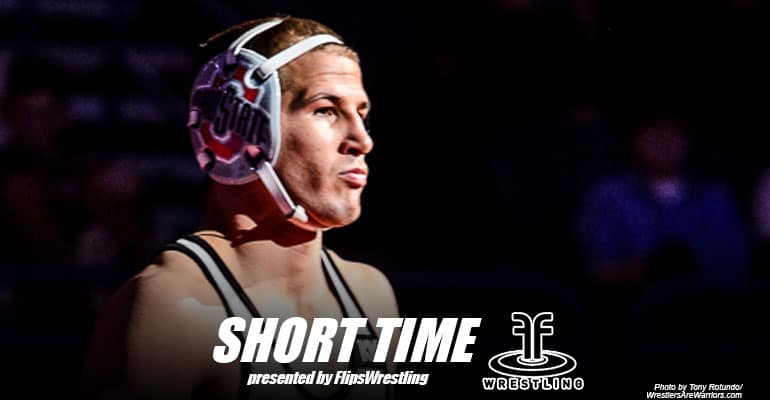 Podcast: Play in new window | Download | Embed
Subscribe to this show via: Apple Podcasts | Google Podcasts | Spotify | iHeartRadio | Stitcher | TuneIn | RSS | More
Only four people in the history of Division I college wrestling have won four individual national titles. Prior to 2015, that list was only three. Ohio State's Logan Stieber won his fourth championship last month to join Pat Smith, Cael Sanderson and Kyle Dake in the exclusive club.
On Episode 157 of the Short Time Wrestling Podcast, I'll talk with the one they call Logie Bear about the Ohio State Buckeyes first team championship, the pressure on trying to win four titles, the pressure in watching his younger brother Hunter battle through injuries.
Stieber talks about the journey from tiny Monroeville, Ohio to Columbus and when he knew he was going to be a Buckeye. He'll address Cleveland State, Mike Pucillo and his future in freestyle wrestling.
Stieber also talks about some individual performances from other teams he noticed at the NCAA championships and maybe who he might have voted for the Hodge Trophy if he could not have voted for himself.
Hey folks, the Short Time Wrestling Podcast is now available as a standalone app for your Apple iOS devices and Android platforms. That's right, go to www.mattalkonline.com/iosapp to download the FREE app for your iPhone or iPad and if you want to head over to the Google Play store and get the app for your Android devices, go to www.mattalkonline.com/androidapp.
SUBSCRIBE TO SHORT TIME
iTunes | Stitcher | Spreaker | iHeartRadio | TuneIn | SoundCloud | RSS
And if you haven't already, head to www.mattalkonline.com/getshorttime to leave a rating and a review on iTunes.
The Short Time Time Wrestling Podcast is proudly sponsored by Flipswrestling. Share your attitude and be heard at Flipswrestling.com.