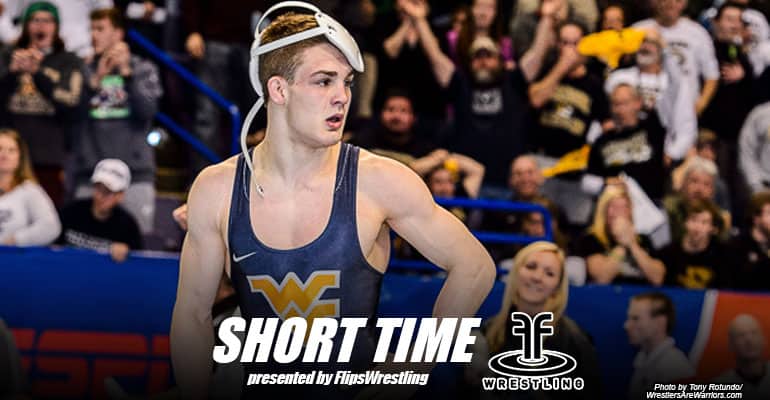 Podcast: Play in new window | Download | Embed
Subscribe to this show via: Apple Podcasts | Google Podcasts | Spotify | iHeartRadio | TuneIn | RSS | More
It'd been 12 years since an unseeded wrestler had reached the NCAA Division I championship finals. Back then, they only seeded to 12. With the field now seeded at 16, having an unseeded wrestler reach the finals is less likely.
No one told West Virginia true freshman Zeke Moisey.
Despite coming in with 13 regular-season losses, Moisey reached the championship finals at 125 pounds before falling to Ohio State nemesis Nathan Tomasello. Under first-year head coach Sammie Henson, Moisey joined us on Episode 158 of the Short Time Wrestling Podcast to talk about his high school career at Bethlehem Catholic, the decision not to redshirt, recovering from surgery and what it's like to be #BullTrained.
Hey folks, the Short Time Wrestling Podcast is now available as a standalone app for your Apple iOS devices and Android platforms. That's right, go to www.mattalkonline.com/iosapp to download the FREE app for your iPhone or iPad and if you want to head over to the Google Play store and get the app for your Android devices, go to www.mattalkonline.com/androidapp.
SUBSCRIBE TO SHORT TIME
iTunes | Stitcher | Spreaker | iHeartRadio | TuneIn | SoundCloud | RSS
And if you haven't already, head to www.mattalkonline.com/getshorttime to leave a rating and a review on iTunes.
The Short Time Time Wrestling Podcast is proudly sponsored by Flipswrestling. Share your attitude and be heard at Flipswrestling.com.