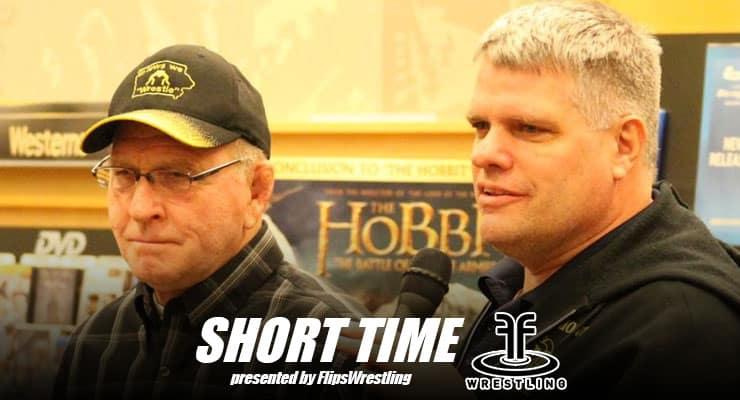 Podcast: Play in new window | Download | Embed
Subscribe to this show via: Apple Podcasts | Google Podcasts | Spotify | iHeartRadio | Stitcher | TuneIn | RSS | More
So what more can be written about Dan Gable?
That's exactly what Scott Schulte set to find out as he recently released a book penned with Gable called "A Wrestling Life: The Inspiring Stories of Dan Gable."
On Episode 159 of the Short Time Wrestling Podcast, I'll have a chat with Schulte, a self-professed storyteller by trade and mild-mannered editor of an Iowa weekly newspaper in his other life.
Schulte breaks down the process of how he, while then living in Connecticut, connected with Gable at the 2012 Olympic Trials and how that meeting evolved into a book that contains stories as told by Gable that have never previously been published.
A Wrestling Life is available at Amazon.com and your local big box bookseller like Barnes & Noble.
Hey folks, the Short Time Wrestling Podcast is now available as a standalone app for your Apple iOS devices and Android platforms. That's right, go to www.mattalkonline.com/iosapp to download the FREE app for your iPhone or iPad and if you want to head over to the Google Play store and get the app for your Android devices, go to www.mattalkonline.com/androidapp.
SUBSCRIBE TO SHORT TIME
iTunes | Stitcher | Spreaker | iHeartRadio | TuneIn | SoundCloud | RSS
And if you haven't already, head to www.mattalkonline.com/getshorttime to leave a rating and a review on iTunes.
The Short Time Time Wrestling Podcast is proudly sponsored by Flipswrestling. Share your attitude and be heard at Flipswrestling.com.