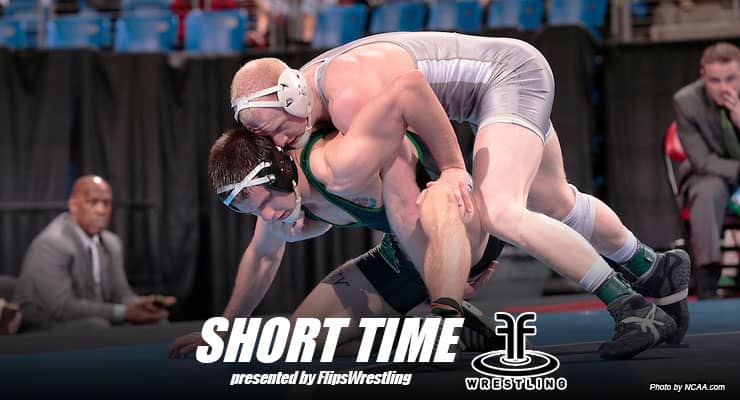 Podcast: Play in new window | Download | Embed
Subscribe to this show via: Apple Podcasts | Google Podcasts | Spotify | iHeartRadio | TuneIn | RSS | More
Central Oklahoma senior Chris Watson has battled through injuries his entire career. As a senior, Watson was, for the most part, injury free as he went 42-0 and captured the 165-pound NCAA Division II championship.
Then something went a bit wonky. Watson's arm doubled in size and started changing color. A trip to the doctor would come back negative, but then came a second and the diagnosis that Watson had a life-threatening blood clot.
This wasn't just something that could be taken care of with some blood thinners, Watson needed a rare surgery to rid himself of the eight-inch clot in his shoulder.
On Episode 160 of the Short Time Wrestling Podcast, Chris Watson opens up about how he won an NCAA championship with a massive clot. He also breaks down an intriguing decision to opt for Division II Central Oklahoma after he initially decided he wasn't going to wrestle in college.
It's an informative and entertaining look into the fight and the background of the NCAA Division II Wrestler of the Year, Chris Watson, on the Short Time Wrestling Podcast.
Hey folks, the Short Time Wrestling Podcast is now available as a standalone app for your Apple iOS devices and Android platforms. That's right, go to www.mattalkonline.com/iosapp to download the FREE app for your iPhone or iPad and if you want to head over to the Google Play store and get the app for your Android devices, go to www.mattalkonline.com/androidapp.
SUBSCRIBE TO SHORT TIME
iTunes | Stitcher | Spreaker | iHeartRadio | TuneIn | SoundCloud | RSS
And if you haven't already, head to www.mattalkonline.com/getshorttime to leave a rating and a review on iTunes.
The Short Time Time Wrestling Podcast is proudly sponsored by Flipswrestling. Share your attitude and be heard at Flipswrestling.com.