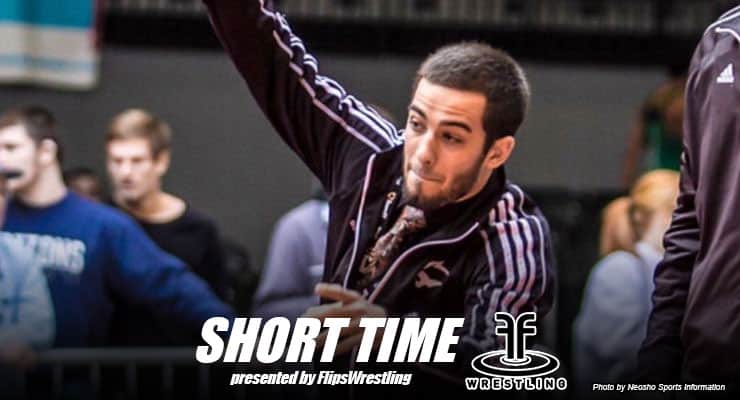 Podcast: Play in new window | Download | Embed
Subscribe to this show via: Apple Podcasts | Google Podcasts | Spotify | iHeartRadio | Stitcher | TuneIn | RSS | More
Matt Oliver decided to take a chance on a Division II college after he won a New Jersey high school state wrestling championship. When Oliver's career ended as a Division II All-American for Newberry College, he pondered what was next.
Enter a call from an old Newberry teammate luring him away from the Boardwalk on the New Jersey Shore to the flat lands of Chanute, Kansas. Then came another opportunity, a chance to lead a program as a head coach.
On Episode 161 of the Short Time Wrestling Podcast, I'll visit with Oliver, the new head coach at Spartanburg Methodist College, a junior college in Spartanburg, South Carolina. Oliver takes over for the 12-year-old program after spending two years as an assistant at Neosho County Community College.
Oliver will break down the choice to compete in Division II, cutting his teeth in coaching at Neosho and what really is the correct answer when it comes to the age-old question of whether it's pop or soda.
It's an entertaining interview with Oliver.
And if you're a fan of the extensive and broad-based reach of the shows on the Mat Talk Podcast Network, consider becoming a patron by going to www.patreon.com/mattalkonline. There are various levels of perks for the different levels of patronage. If you like wrestling content — scratch that — if you LOVE great wrestling content, consider becoming a patron. How much you give is solely up to how much you believe it's worth to you.
SUBSCRIBE TO SHORT TIME
iTunes | Stitcher | Spreaker | iHeartRadio | TuneIn | SoundCloud | iOS App | Android App | RSS
And if you haven't already, head to www.mattalkonline.com/getshorttime to leave a rating and a review on iTunes.
The Short Time Time Wrestling Podcast is proudly sponsored by Flipswrestling. Share your attitude and be heard at Flipswrestling.com.