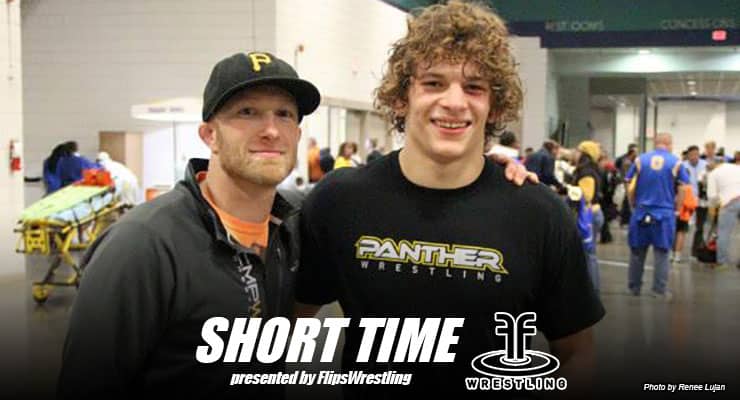 Podcast: Play in new window | Download | Embed
Subscribe to this show via: Apple Podcasts | Google Podcasts | Spotify | iHeartRadio | TuneIn | RSS | More
Big time fun on Episode 167 of the Short Time Wrestling Podcast with Georgia's own Cliff Fretwell. Before we talk with Fretwell, we throw some stats at you regarding the NCAA Division I All-Americans and how they did in Fargo. Our newest patron, Troy Heinritz, gets a shout out as well. You can find Troy's podcast, The Blacklist Exposed, at theblacklistexposed.com.
Want to be a contributor to the program? Check the links out below where it says "Contribute." Also join our free DAILY WRESTLING NEWS email list at mattalkonline.com/news. Once the shout outs and news plugs are done, we get to the interview portion of the show.
Fretwell is one of the more recognizable voices in wrestling with his notable "Ropewell" previews on both YouTube and Flowrestling, but he's been an active coach and organizer in Georgia for the past decade. Fretwell has taken his wrestling club, Compound, into a clothing and team gear company and has relationships with some of the top names in the sport.
Fretwell's boom with Compound Clothing really came when they leapt forward with the Keep Olympic Wrestling gear. With that, a clothing company was born.
Fretwell's group is also launching a College Combine in June where college coaches will have the opportunity to see college hopefuls practice, compete and go through a number of tests similar to an NFL-type of combine.
We talk grits, sweet tea and the South on Short Time.
Find more about Compound at CMPClothing.com, CMPtrained.com, CMPteamwear.com, and CMPcamps.com.
And if you haven't already, head to www.mattalkonline.com/getshorttime to leave a rating and a review on iTunes.
The Short Time Time Wrestling Podcast is proudly sponsored by Flipswrestling. Share your attitude and be heard at Flipswrestling.com.
Contribute
And if you're a fan of the extensive and broad-based reach of the shows on the Mat Talk Podcast Network, consider becoming a patron by going to www.patreon.com/mattalkonline. There are various levels of perks for the different levels of patronage. If you like wrestling content — scratch that — if you LOVE great wrestling content, consider becoming a patron. How much you give is solely up to how much you believe it's worth to you.
Looking to start a podcast of your own?
Get a free month with Libsyn.com by using the promo code MTO when you sign up. You'll get the remainder of the month from when you sign up as well as the next month free. It'll be enough time to kick the tires and lights some fires.
SUBSCRIBE TO SHORT TIME
iTunes | Stitcher | Spreaker | iHeartRadio | TuneIn | SoundCloud | iOS App | Android App | RSS