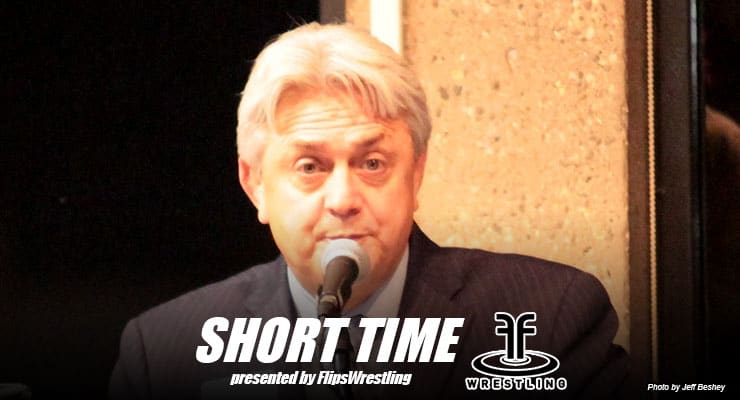 Podcast: Play in new window | Download | Embed
Subscribe to this show via: Apple Podcasts | Google Podcasts | Spotify | iHeartRadio | TuneIn | RSS | More
Episode 172 of the Short Time Wrestling Podcast goes down to Stillwater.
The inductees into the 39th class of the National Wrestling Hall of Fame were honored in Stillwater, Oklahoma. Greg Johnson, Frank Bettucci, Joe Gonzales and Sammie Henson were inducted as Distinguished Members, while Mike Golic was honored as the Outstanding American, Mike Powell was given the Medal of Courage and Dave "Doc" Bennett was honored with the Order of Merit.
I headed down to Stillwater with my wife and daughter as well as my niece and nephew. Those two were getting their first experience into the world wrestling.
We'll also talk with Lee Roy Smith, the Executive Director of the National Wrestling Hall of Fame and we'll look at this year's honorees and the campaigns that we're moving towards building for the future.
And if you haven't already, head to www.mattalkonline.com/getshorttime to leave a rating and a review on iTunes.
The Short Time Time Wrestling Podcast is proudly sponsored by Flipswrestling. Share your attitude and be heard at Flipswrestling.com.
Contribute
And if you're a fan of the extensive and broad-based reach of the shows on the Mat Talk Podcast Network, consider becoming a contributor by going to www.patreon.com/mattalkonline. There are various levels of perks for the different levels of patronage. If you like wrestling content — scratch that — if you LOVE great wrestling content, consider becoming a contributor. How much you give is solely up to how much you believe it's worth to you.
Looking to start a podcast of your own?
Get a free month with Libsyn.com by using the promo code MTO when you sign up. You'll get the remainder of the month from when you sign up as well as the next month free. It'll be enough time to kick the tires and lights some fires.
SUBSCRIBE TO SHORT TIME
iTunes | Stitcher | Spreaker | iHeartRadio | TuneIn | SoundCloud | iOS App | Android App | RSS