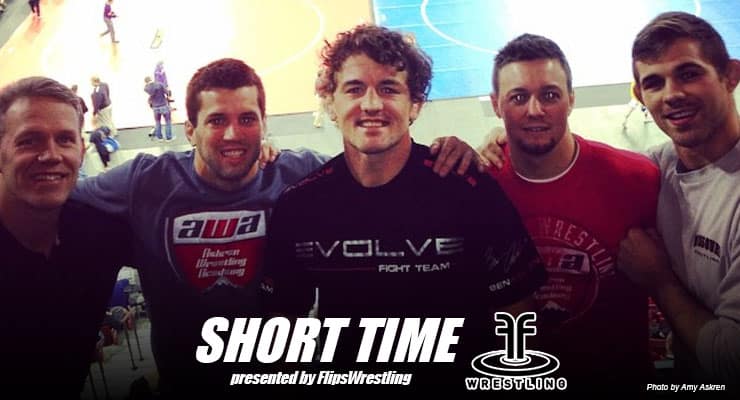 Podcast: Play in new window | Download | Embed
Subscribe to this show via: Apple Podcasts | Google Podcasts | Spotify | iHeartRadio | Stitcher | TuneIn | RSS | More
Some news to report as USA Wrestling has announced Nick Marable, the U.S. Open champion at 70kg, will not be granted an injury extension following his failure to compete at the U.S. World Team Trials on June 13-14. Marable sustained a pre-tournament injury and requested an extension, but since that injury happened within the 18 hours prior to the event, he would have still needed to weigh in. That didn't happen.
This means U.S. World Team Trials champion, James Green, is the man at 70kg. That gives Team USA two former Huskers on the squad. Green was a four-time All-American and is going right from college into the senior level.
Some other nuggets of info include the USA Wrestling wrestlers of the year being announced. Andy Bisek and Adeline Gray were announced as winners, but if you were in Madison, you already knew that.
Speaking of being IN Madison, that's what sparked the conversation with Episode 176 of the Short Time Wrestling Podcast. We're talking with Ben Askren, a Wisconsin native, 2008 Olympian, ONE FC champion and two-time NCAA champion. Askren is always pretty vocal when it comes to marketing and promotion and during the event, he and I exchanged some banter over the Twitterverse and ultimately came to an agreement to do the interview to talk about what was good and bad with marketing of wrestling, especially when events like the World Team Trials are involved.
We got some details on what the local organizing committee did and didn't do, as well as what USA Wrestling did. Ben also stepped up and did some social media push of his own. All in all, a pretty engaging conversation.
Shop, drop and roll
Mat Talk Online has now launched an affiliate store through Amazon.com. So if you're looking for wrestling shoes, movies, books or digital downloads, check out mattalkonline.com/store today.
And if you haven't already, head to www.mattalkonline.com/getshorttime to leave a rating and a review on iTunes.
The Short Time Time Wrestling Podcast is proudly sponsored by Flipswrestling. Share your attitude and be heard at Flipswrestling.com.
Contribute
And if you're a fan of the extensive and broad-based reach of the shows on the Mat Talk Podcast Network, consider becoming a contributor by going to www.patreon.com/mattalkonline. There are various levels of perks for the different levels of patronage. If you like wrestling content — scratch that — if you LOVE great wrestling content, consider becoming a contributor. How much you give is solely up to how much you believe it's worth to you.
Looking to start a podcast of your own?
Get a free month with Libsyn.com by using the promo code MTO when you sign up. You'll get the remainder of the month from when you sign up as well as the next month free. It'll be enough time to kick the tires and lights some fires.
SUBSCRIBE TO SHORT TIME
iTunes | Stitcher | Spreaker | iHeartRadio | TuneIn | SoundCloud | iOS App | Android App | RSS