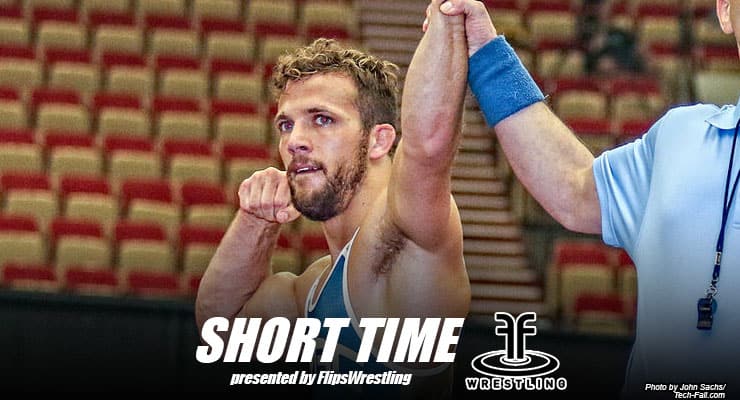 Podcast: Play in new window | Download | Embed
Subscribe to this show via: Apple Podcasts | Spotify | iHeartRadio | TuneIn | RSS | More
Reece Humphrey kind of always knew he'd be an Ohio State Buckeye, so when the decision came to choose a college after graduating from Lawrence North High School in 2005, he headed east to Columbus.
On Episode 177 of the Short Time Wrestling Podcast, we'll jump forward 10 years and talk to Humphrey, who will represent the United States at the 2015 United World Wrestling Championships in Las Vegas in September. This will be Humphrey's third opportunity to wrestle for gold at the World Championships.
Humphrey goes back to tell a unique story about how he got involved with wrestling and, believe it or not, it had NOTHING to do with his dad, who was a 1977 World silver medalist.
He'll also give his take on what it was like during the transition from Russ Hellickson's era to the new regime under Tom Ryan and the pride associated with winning a team title, even as an alum.
It's a discussion about history, overcoming a challenging weight cut and life as a husband and father. Follow Humphrey on Twitter @ReeceHump60kg.
Shop, drop and roll
Mat Talk Online has now launched an affiliate store through Amazon.com. So if you're looking for wrestling shoes, movies, books or digital downloads, check out mattalkonline.com/store today.
And if you haven't already, head to www.mattalkonline.com/getshorttime to leave a rating and a review on iTunes.
The Short Time Time Wrestling Podcast is proudly sponsored by Flipswrestling. Share your attitude and be heard at Flipswrestling.com.
Contribute
And if you're a fan of the extensive and broad-based reach of the shows on the Mat Talk Podcast Network, consider becoming a contributor by going to www.patreon.com/mattalkonline. There are various levels of perks for the different levels of patronage. If you like wrestling content — scratch that — if you LOVE great wrestling content, consider becoming a contributor. How much you give is solely up to how much you believe it's worth to you.
Looking to start a podcast of your own?
Get a free month with Libsyn.com by using the promo code MTO when you sign up. You'll get the remainder of the month from when you sign up as well as the next month free. It'll be enough time to kick the tires and lights some fires.
SUBSCRIBE TO SHORT TIME
iTunes | Stitcher | Spreaker | iHeartRadio | TuneIn | SoundCloud | iOS App | Android App | RSS