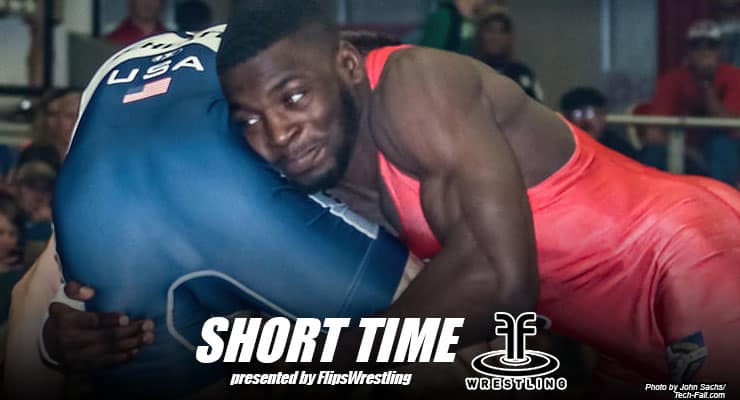 Podcast: Play in new window | Download | Embed
Subscribe to this show via: Apple Podcasts | Google Podcasts | Spotify | iHeartRadio | TuneIn | RSS | More
Episode 178 of the Short Time Wrestling Podcast features U.S. men's freestyle World Team member James Green.
Before we get into our discussion with Green, we'll throw you a few reminders about some of the products and services being offered by the Mat Talk Podcast Network, including the Hall of Fame Legends crowdfunding campaign. You can help us produce digital content from our sports' greats by giving a small monthly donation or a one-time donation at HallofFameLegends.org. It helps fund the effort and all the content will be donated to the National Wrestling Hall of Fame for its digital outreach program.
It's also the 43rd anniversary of Title IX, the legislation that's helped thousands and thousands of women enjoy the benefits of sports at the college level (and other parts of life). Title IX is NOT a sports-only law. It has influence over game times, practice jerseys, gym facilities. Basically, it's gotta be fair and equitable. With Title IX's application to college athletics, the fairness is one-sided. While women have seen monumental growth in athletics, there is this blind eye to the fact the law has caused programs to be cut over the years on the men's side. To say Title IX has never impacted a men's cut is to lack common sense.
But look at the numbers for yourself, before we get to talking with Green, I'll break down some stats, which you can verify by clicking here.
Now, James Green. We have fun with Green and talk about his influences, how he started wrestling in New Jersey, comparisons (liked or unliked) to his Nebraska comrade Jordan Burroughs and a litany of other things.
He's a fun guy to talk with and he's up next on Short Time. Follow Green on Twitter @WhoisJamesG.
Shop, drop and roll
Mat Talk Online has now launched an affiliate store through Amazon.com. So if you're looking for wrestling shoes, movies, books or digital downloads, check out mattalkonline.com/store today.
And if you haven't already, head to www.mattalkonline.com/getshorttime to leave a rating and a review on iTunes.
The Short Time Time Wrestling Podcast is proudly sponsored by Flipswrestling. Share your attitude and be heard at Flipswrestling.com.
Contribute
And if you're a fan of the extensive and broad-based reach of the shows on the Mat Talk Podcast Network, consider becoming a contributor by going to www.patreon.com/mattalkonline. There are various levels of perks for the different levels of patronage. If you like wrestling content — scratch that — if you LOVE great wrestling content, consider becoming a contributor. How much you give is solely up to how much you believe it's worth to you.
Looking to start a podcast of your own?
Get a free month with Libsyn.com by using the promo code MTO when you sign up. You'll get the remainder of the month from when you sign up as well as the next month free. It'll be enough time to kick the tires and lights some fires.
SUBSCRIBE TO SHORT TIME
iTunes | Stitcher | Spreaker | iHeartRadio | TuneIn | SoundCloud | iOS App | Android App | RSS