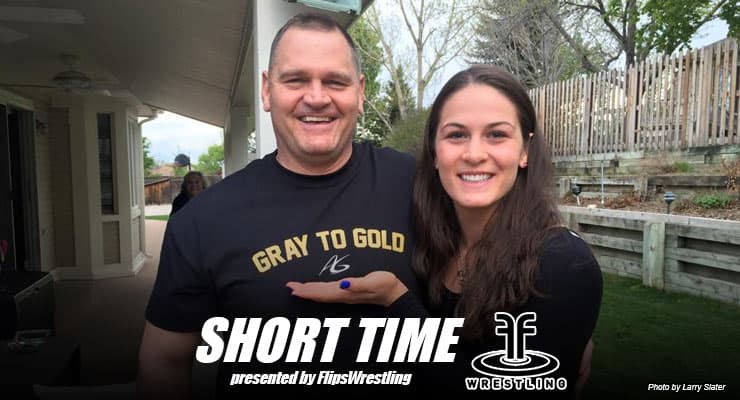 Podcast: Play in new window | Download | Embed
Subscribe to this show via: Apple Podcasts | Google Podcasts | Spotify | iHeartRadio | Stitcher | TuneIn | RSS | More
Two-time World Champion and four-time World medalist Adeline Gray joins the Short Time Wrestling Podcast for Episode 179 as we start catching up with our 2015 U.S. representatives for the upcoming World Championships.
Gray, a Denver native, doesn't want to be one of the guys. Well-spoken and an advocate for women's wrestling, she remembers a time when young women like her didn't have women's wrestling role models because the world of women's wrestling was still developing. Now wrestlers like Gray and Helen Maroulis, get approached at tournaments by young female wrestlers eager to meet their heroes.
Gray got into wrestling through her father George. With no boys to teach the armbar, George Gray showed his oldest of his four girls the move when she was six-years-old and she's still putting people away with it.
Gray talks on a number of topics, including battling through some international plagues, so to speak, en route to her second World title last year in Uzbekistan. What does she want to do following wrestling? How long will she wrestle and how important is it for the U.S. and women's wrestling as a whole when America's first Olympic women's wrestling champion is crowned? Find out on Short Time.
Follow Gray on Twitter @AdelineGray.
Shop, drop and roll
Mat Talk Online has now launched an affiliate store through Amazon.com. So if you're looking for wrestling shoes, movies, books or digital downloads, check out mattalkonline.com/store today.
And if you haven't already, head to www.mattalkonline.com/getshorttime to leave a rating and a review on iTunes.
The Short Time Time Wrestling Podcast is proudly sponsored by Flipswrestling. Share your attitude and be heard at Flipswrestling.com.
Contribute
And if you're a fan of the extensive and broad-based reach of the shows on the Mat Talk Podcast Network, consider becoming a contributor by going to www.patreon.com/mattalkonline. There are various levels of perks for the different levels of patronage. If you like wrestling content — scratch that — if you LOVE great wrestling content, consider becoming a contributor. How much you give is solely up to how much you believe it's worth to you.
Looking to start a podcast of your own?
Get a free month with Libsyn.com by using the promo code MTO when you sign up. You'll get the remainder of the month from when you sign up as well as the next month free. It'll be enough time to kick the tires and lights some fires.
SUBSCRIBE TO SHORT TIME
iTunes | Stitcher | Spreaker | iHeartRadio | TuneIn | SoundCloud | iOS App | Android App | RSS