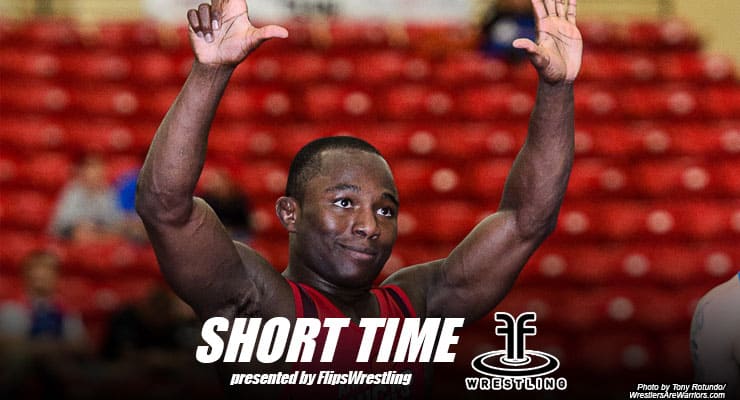 Podcast: Play in new window | Download | Embed
Subscribe to this show via: Apple Podcasts | Google Podcasts | Spotify | iHeartRadio | TuneIn | RSS | More
Episode 181 of the Short Time Wrestling Podcast features Spenser Mango, the man who's owned Greco-Roman's lowest weight on the U.S. stage since 2008.
The Missouri native and member of the Army's World Class Athlete Program made his eighth-straight U.S. World or Olympic team after topping Jesse Thielke in the Greco-Roman best-of-three finals split between Las Vegas and Ithaca, N.Y.
Mango talks about his journey into Greco-Roman wrestling after choosing that route after nearly attending Division II Truman State. Mango went to Northern Michigan and helped launch a revival in the Greco-Roman wrestling landscape.
Then Mango joined the Army, where half of the 2015 U.S. World Team, comes from. Mango overcame childhood tragedy, losing his father in an unsolved shooting when he was young and now is building a family of his own.
Will 2015 be different for Mango, who is searching for his first World-level medal? What's going to be the difference?
Shop, drop and roll
Mat Talk Online has now launched an affiliate store through Amazon.com. So if you're looking for wrestling shoes, movies, books or digital downloads, check out mattalkonline.com/store today.
And if you haven't already, head to www.mattalkonline.com/getshorttime to leave a rating and a review on iTunes.
The Short Time Time Wrestling Podcast is proudly sponsored by Flipswrestling. Share your attitude and be heard at Flipswrestling.com.
Contribute
And if you're a fan of the extensive and broad-based reach of the shows on the Mat Talk Podcast Network, consider becoming a contributor by going to www.patreon.com/mattalkonline. There are various levels of perks for the different levels of patronage. If you like wrestling content — scratch that — if you LOVE great wrestling content, consider becoming a contributor. How much you give is solely up to how much you believe it's worth to you.
Looking to start a podcast of your own?
Get a free month with Libsyn.com by using the promo code MTO when you sign up. You'll get the remainder of the month from when you sign up as well as the next month free. It'll be enough time to kick the tires and lights some fires.
SUBSCRIBE TO SHORT TIME
iTunes | Stitcher | Spreaker | iHeartRadio | TuneIn | SoundCloud | iOS App | Android App | RSS