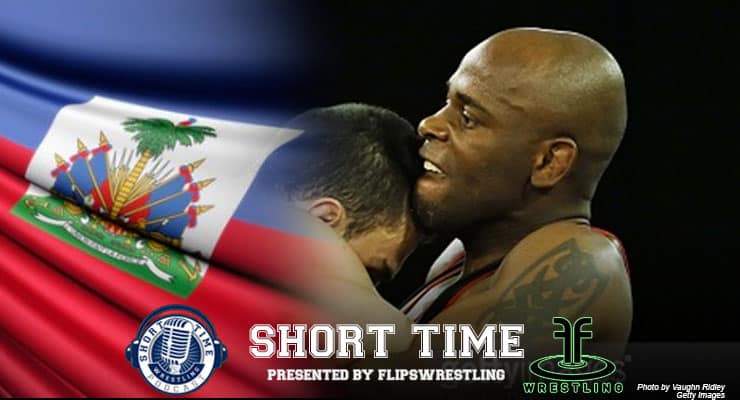 Podcast: Play in new window | Download | Embed
Subscribe to this show via: Apple Podcasts | Google Podcasts | Spotify | iHeartRadio | TuneIn | RSS | More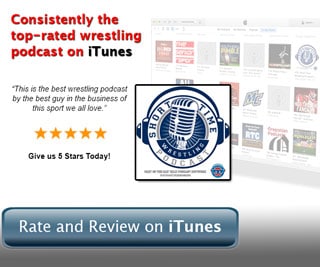 We'd teased we were having a big guest coming on Short Time for Episode 196, but Hollywood had to reschedule. I am pleased to let you know the guest for Episode 196 is extremely relevant and important to the development of wrestling and his story is fascinating.
Asnage Castelly represents the ENTIRE Haitian wrestling team. He's the head of their wrestling federation and the only athlete. He's coordinated all this while serving in the U.S. military and bouncing between the U.S. and Haiti with his wife and young child.
At 37, Castelly's career is likely coming to a close, at least on the wrestling mat. A Division II wrestler at American International in Springfield, Mass., Castelly recently competed in the Pan Am Games in Greco-Roman. He'll be the first Haitian wrestler to compete at the World Championships when he steps on the mat in men's freestyle (yes, he's wrestled both styles).
Castelly is working to build a school and bring wrestling to Haiti, which shares the island of Hispanola with the Dominican Republic, a nation with a more organized and a modest amount of success at the Pan American level.
SUBSCRIBE TO SHORT TIME
[saf include="itunes,apple,android,stitcher,spreaker,iheartradio,tunein,soundcloud,rss"]
iTunes | Stitcher | Spreaker | iHeartRadio | TuneIn | SoundCloud | iOS App | Android App | RSS
Almanac Time!
Get the Cadet & Junior Nationals All-American Almanac, a 219-page digital download. It's available now and if you use the promo code "JB" you'll save $5 off the cover price. It's got every All-American EVER in Fargo (and the locations that were before Fargo) and every breakdown by year and state. Oh, you know this guy who says he placed at Juniors? Fact check him quickly!. BUY ONE NOW!
And if you haven't already, head to www.mattalkonline.com/getshorttime to leave a rating and a review on iTunes.
The Short Time Time Wrestling Podcast is proudly sponsored by Flipswrestling. Share your attitude and be heard at Flipswrestling.com.
Contribute
And if you're a fan of the extensive and broad-based reach of the shows on the Mat Talk Podcast Network, consider becoming a contributor by going to www.patreon.com/mattalkonline. There are various levels of perks for the different levels of patronage. If you like wrestling content — scratch that — if you LOVE great wrestling content, consider becoming a contributor. How much you give is solely up to how much you believe it's worth to you.
Looking to start a podcast of your own?
Get a free month with Libsyn.com by using the promo code MTO when you sign up. You'll get the remainder of the month from when you sign up as well as the next month free. It'll be enough time to kick the tires and lights some fires.