Podcast: Play in new window | Download | Embed
Subscribe to this show via: Apple Podcasts | Google Podcasts | Spotify | iHeartRadio | TuneIn | RSS | More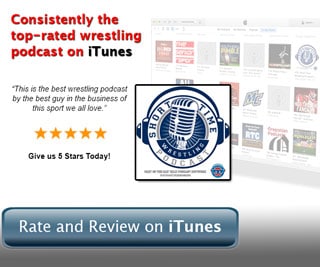 It's been a long time coming, but Mario Lopez is finally appearing on the Short Time Wrestling Podcast.
On Episode 198, we'll talk with Lopez, the current host of Extra, the Hollywood celebrity news show seen pretty much on every TV in the civilized world. Lopez was a high school wrestling state placewinner from one-class California back in 1991 for Chula Vista High School just south of San Diego.
Lopez started wrestling under Mexican Olympian Gabriel Ruiz and wrestled under San Diego theater legend Bill Virchis, who also doubled as Chula Vista's wrestling coach. Lopez talks about his time wrestling through his senior year with essentially no practice while shooting Saved By The Bell, where he played A.C. Slater.
We'll talk about the wrestling correlations between the Slater character and Lopez, what he remembers about wrestling in high school and how much he still loves the sport. You might be surprised to find out where Lopez, not his kids' show alter ego Slater, ALMOST wrestled in college.

Almanac Time!
Get the Cadet & Junior Nationals All-American Almanac, a 219-page digital download. It's available now and if you use the promo code "JB" you'll save $5 off the cover price. It's got every All-American EVER in Fargo (and the locations that were before Fargo) and every breakdown by year and state. Oh, you know this guy who says he placed at Juniors? Fact check him quickly!. BUY ONE NOW!
And if you haven't already, head to www.mattalkonline.com/getshorttime to leave a rating and a review on iTunes.
Contribute
And if you're a fan of the extensive and broad-based reach of the shows on the Mat Talk Podcast Network, consider becoming a contributor by going to www.patreon.com/mattalkonline. There are various levels of perks for the different levels of patronage. If you like wrestling content — scratch that — if you LOVE great wrestling content, consider becoming a contributor. How much you give is solely up to how much you believe it's worth to you.
Looking to start a podcast of your own?
Get a free month with Libsyn.com by using the promo code MTO when you sign up. You'll get the remainder of the month from when you sign up as well as the next month free. It'll be enough time to kick the tires and lights some fires.