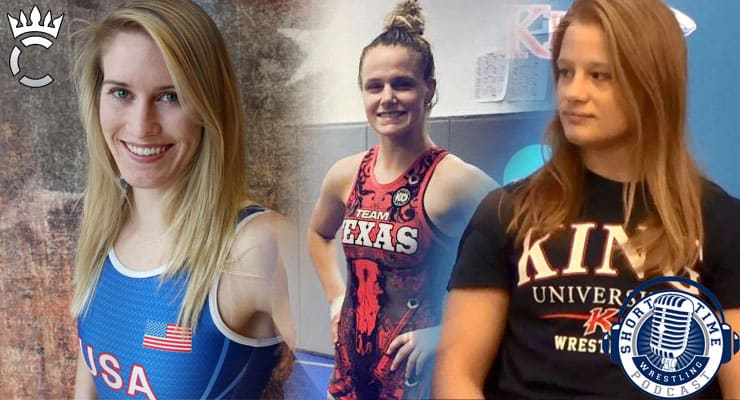 Podcast: Play in new window | Download | Embed
Subscribe to this show via: Apple Podcasts | Google Podcasts | Spotify | iHeartRadio | TuneIn | RSS | More
The American Civil Liberties Union (ACLU) sent a letter to the National Collegiate Wrestling Association (NCWA) alleging discrimination. While the NCWA had 10 days to legally respond to the allegations, the ACLU went on a media assault, pushing out video content and share campaigns aimed at pushing the agenda to the masses.
There's one (or more than one) problem, the NCWA is the only organization that offers college teams, albeit mostly student-run clubs, to compete in both men's and women's divisions. That isn't good enough for one Michigan native, so the ACLU pounced, labeling itself a champion for women's wrestling.
On Episode 361, three women's wrestlers come to the table to talk about the problems with the ACLU narrative, explaining the depth of the current women's wrestling opportunities around the country and what is being done by all factions of wrestling to support the growth of women's teams — all things the ACLU left out of its marketing push.
Joining the show is Short Time regular and King University assistant coach Julia Salata, former Oklahoma City wrestler Shelby Morrison and former U.S. women's national team member and Menlo College alum Katherine Shai (formerly Fulp-Allen).
The discussion explains the structure of how girls can wrestle in college — with schools that actually have college wrestling teams. For first-time listeners looking for facts and scenarios ignored by the ACLU media push, you've come to the right place. Want to hear what the lion's share of how women's wrestlers feel about this? Your ears await.
JOIN THE TEAM
And if you're a fan of the extensive and broad-based reach of the shows on the Mat Talk Podcast Network, become a TEAM MEMBER today. There are various levels of perks for the different levels of team membership. If you like wrestling content — scratch that — if you LOVE great wrestling content, consider becoming a team member. You'll get some cool stuff too.
The Short Time Time Wrestling Podcast is proudly supported by Compound Clothing.
And if you haven't already, leave a rating and a review on iTunes.
GET DAILY WRESTLING NEWS!
You like wrestling news, right? Of course you do. Did you know you can sign up for FREE to subscribe to the Mat Talk Online DAILY WRESTLING NEWS e-mail newsletter that's published EVERY morning with the previous day's top news stories from outlets all around the globe. It's free and it's a great way to start your wrestling day.
SUBSCRIBE TO SHORT TIME
iTunes | Stitcher | Spreaker | iHeartRadio | TuneIn | Google Play Music | iOS App | Android App | RSS
Almanac Time!
Get the Cadet & Junior Nationals All-American Almanac, a 250-page digital download. It's available now and if you use the promo code "JB" you'll save $5 off the cover price. It's got every All-American EVER in Fargo (and the locations that were before Fargo) and every breakdown by year and state. Oh, you know this guy who says he placed at Juniors? Fact check him or her quickly by buying one now!
Looking to start a podcast of your own?
Get a free month with Libsyn by using the promo code MTO when you sign up. You'll get the remainder of the month from when you sign up as well as the next month free. It'll be enough time to kick the tires and lights some fires.