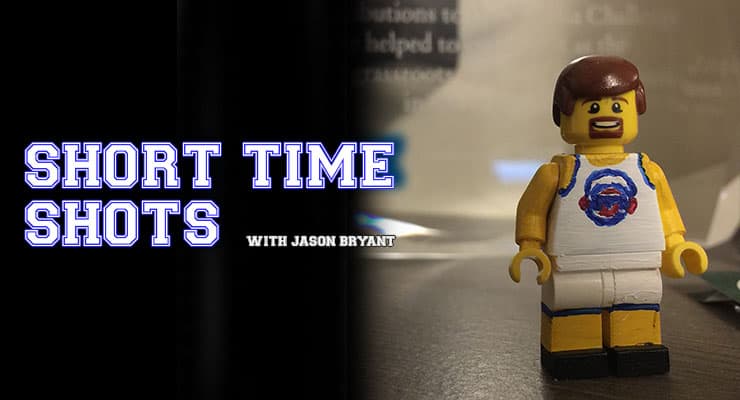 Podcast: Play in new window | Download | Embed
Subscribe to this show via: Apple Podcasts | Google Podcasts | RSS
The big news in college wrestling is of course the wonderful world of the Cliff Keen Las Vegas Invitational. There's a lot to watch and with 20 different schools represented in the semifinals, it'll sure to be a good Saturday of wrestling. Thanks to Earl Smith for that stat, I'm Jason Bryant and this is Short Time Shots, a semi-daily look around the world of college wrestling.
Michigan leads the CKLV after the first day. Ohio State's in second place followed by Nebraska, Arizona State and Northern Iowa. Michigan put five wrestlers into the semifinals, while Ohio State put six. Nebraska and UNI each have four.
As always, the Cliff Keen provides then ranking public some major headaches as upsets are plentiful.
At 125 pounds, a pair of All-Americans fell as returning NCAA runner-up Ethan Lizak was knocked off 4-3 in the quarterfinals by Utah Valley's Taylor LaMont. Jay Schwarm of Northern Iowa avenged a loss earlier in the day to Cornell's Mike Russo and Schwarm then beat Arizona State's Ryan Millhof to advance to Saturday's semifinals. Boise State transfer and past JUCO All-American Will Bardezbain of Kent State topped North Carolina's Dalton Macri 18-15 in the Round of 16.
Josh Terao of American is the lowest seed to reach the semifinals at 133 pounds. The Eagle topped No. 2 seed Dom Forys of Pittsburgh 6-3 in the quarters. He'll face Jack Mueller of Virginia, who defeated 11th-seeded Austin DeSanto of Drexel in the other bottom bracket quarter. Up top, It's a Michigan-Ohio State semi with top-seeded Stevan Micic set to face off with Ohio State's Luke Pletcher. Pletcher survived a scare in a first-round tiebreaker win over Ben Thornton of Purdue.
At 141, two-time All-American Bryce Meredith of Wyoming will give Cornell's Yianni Diakomihalis his first test in the semifinals. Down low, it'll be a Chad Red-Josh Alber semifinal. Nebraska's Red topped Eli Stickley of Wisconsin 7-5 in the quarters while Northern Iowa's Alber upended Tommy "The Cat" Thorn of Minnesota 4-3. Top upset of that bracket came as Pitt's Nick Zanetta beat No. 4 seed Javier Gasca of Michigan State in the pigtails.
At 149, a modest upset saw North Carolina's Troy Heilmann go all South Plainfield on Ke-Shawn Hayes of Ohio State. Heilmann beat Hayes after falling behind 6-0 in the first period. Heilmann will face All-American Max Thomsen of UNI in the top bracket semi, while Justin Oliver of Central Michigan will face 900-year-old Colton McCrystal of Nebraska in the bottom bracket semi. McCrystal saw a huge lead evaporate in the quarters, but held on to beat Zander Wick 11-10. I found out Mr. Wick's secret internet password — it's Mister Wick! Drew Carey Show reference if you're wondering.
At 157, top-seeded Tyler Berger of Nebraska looked uninspiring, but he got the job done reaching the semifinals. He'll face All-American Alec Pantaleo of Michigan. Pantaleo pinned North Dakota State's Clay "I'm a lot smarter than you" Ream in 1:09. We'll see a rematch of an earlier dual this year in the bottom bracket semi as Arizona State's Josh Shields will face Ohio State's Micah Jordan.
Michigan's Logan Massa fell 8-4 to the other Wick twin, Evan, 8-4 in the quarters at 165 pounds. Wick scored a third-period escape and a takedown and added a riding time point to beat the returning All-American. Down low, TeShan Campbell of Ohio State will face All-American David McFadden of Virginia Tech. Campbell beat Nebraska's Isaiah White, last year's Division II champion, 3-1. Nick Wanzek of Minnesota survived a scare in the Round of 16 and then used riding time to outlast Anthony Valencia. He's got Wick next. Anyone else getting a Monty Python reference at all?
1-2-3-5 here in the semis at 174 pounds. Arizona State's Zahid Valenica is beast mode right now. He'll face a dangerous Taylor Lujan of Northern Iowa in the semifinals. Lujan pinned Jaeden Bernstein of Navy in under a minute, while it's that whole Michigan-Ohio State thing again, the state up north against that state down south with Myles Amine facing off with Bo Jordan.
At 184, Nebraska's Taylor Venz is the story thus far. The No. 13 seed pinned All-American Drew Foster of Northern Iowa and then did the whole pin thing again against No. 5 seed Jordan Ellingwood of Central Michigan to reach the semifinals. He'll face two-time All-American Myles Martin of Ohio State in the semis. Down low, it's a 2-3 matchup with Virginia Tech's Zack Zavatsky meeting up with Michigan's Domenic Abounader. Nothing super crazy in the rest of the weight.
Top-seeded Kollin Moore of Ohio State was less than stellar in three early-round wins, but in the quarters, he picked it up, majoring Wisconsin's Hunter Ritter to reach the semifinals. He'll face CSU Bakersfield's Matt Williams. Williams topped Northern Colorado's Jacob Seely 8-1 in the quarters. Down low, things got messy. Second-seeded Jared Haught of Virginia Tech reached the semis without incident, but his opponent is unseeded Stephen Lioseau of Drexel. Lancaster Catholic REPRESENT! Loiseau beat Purdue' s Christian Brunner in his opening round bout and then beat Cal Poly's Tom Lane, who'd majored All-American Kevin Beazley of Michigan in the previous round. There's more on that Drexel team than just a true freshman, folks.
At heavyweight, the only sizeable — get it? Sizeable? Heavyweights? Yeah, Purdue's Shawn Streck beat No. 4 seed Ryan Solomon of Pittsburgh early, but Streck was beaten in the semis by Stanford's Nathan Butler. Butler will face the hulking Fowlerville, Michigan native Adam Coon. Down low, it's the People's Champ Jacob Kasper of Duke meeting up with college wrestling's oldest heavyweight, Tanner Hall of Arizona State in a battle of All-Americans.
Brackets and video is all at Flowrestling.
You wrestle with who you've got and right now, Lock Haven's got a few guys who like to score bonus points. Friday proved to be the biggest win to date of Scott Moore's head coaching career as Lock Haven scored four bonus victories in five wins to upend No. 11 Rutgers in front of 2,300-plus fans at Thomas Field House in Mat Town.
Key victories were registered by Ronnie Perry over Eleazar DeLuca at 149 pounds, Chance Marsteller over John Van Brill at 165 and Thomas Haines, who delivered the match-ending fall at heavyweight over Razohnn Gross in just 43 seconds. Lock Haven — the Bald Eagles soaring.
Unranked Princeton tried to make it interesting at Jadwin Gym, but No. 5 Lehigh was too much as late wins by Jordan Kutler and Ryan Preisch slammed the door on the Tigers 25-13. Scotty Parker picked up another fall at 133 pounds for the Mountain Hawks, giving him three straight wins by fall. Six more and he'll tie Shute.
Seventh-ranked Iowa escaped with an 18-17 win over No. 15 Illinois at Carver-Hawkeye Arena on Friday night. Sam Stoll was the hero as he literally fell into a fortuitous position as Illinois heavyweight Deuce Rachal tried to throw the GRECO Junior world medalist and ended up on his back and stuck to give Iowa the come-from-behind victory. Pretty gross dual all the way around though. Isaiah Martinez looked good, but grass is also green.
No. 22 Rider topped Penn 19-15. Notable wins registered by Rider's B.J. Clagon over Joe Velliquette and Chad Walsh over May Bethea. Heavyweight Ryan Cloud sealed the win for the Broncs with a 10-4 win at 285 over Patrik Garren. The loss was the first for the Roger Reina Head Coach of Wrestling Roger Reina since he returned to be the head coach of the Quakers, which oddly enough, is the only Ivy League team whose mascot isn't a color or an animal. That was actually a Final Jeopardy question once.
A pair of ranked foes met in Division II in an MIAA conference matchup as No. 6 Central Oklahoma topped No. 21 Fort Hays State 22-14 in Hays, Kansas. UCO won six of the 10 bouts. Fort Hays' Conrad Cole made a statement at 125 pounds, teching No. 4 Josh Lindsey. Fourth-ranked Caleb Cotter sealed the dual for the Bronchos, that's Bronchos with an H, kind of like Stanley, with a C. Cotter topped Dakota Gulley 6-3 at 285 to ice the win.
Out in Great Falls, Montana, a mix of Division II, NAIA and junior colleges met up at the Battle of the Rockies duals. McKendree, the third-ranked team in Division II, beat host Providence — formerly known as Great Falls, Minot State and Simon Fraser, which was ranked 12th in Divison II. Montana State-Northern from the NAIA was unbeaten, but due to NAIA rules not counting duals against non-four year schools as official bouts, the Lights — yes, the LIGHTS — only officially scored one win, and that was over Division II Simon Fraser.
Northwest College's Nodir Safarav went 3-0 at 125 pounds. He's the guy who won the Dave Schultz. How someone goes from Uzbekistan to Powell, Wyoming is beyond me.
In the NAIA, Baker topped Graceland 24-20. Two quick falls there delivered by Baker's Lucas Lovvorn in 21 seconds and David Dow in 24 seconds. Baker's the Wildcats and their from Baldwin City, Kansas. Shout out to Dan Harris. Oh, and coach Cody Garcia.
Other scores from around the nation
Western State Colorado beat Chadron State 30-11.
Marc Antoni-Macias' Hunter Hawks beat second-year Keystone 40-12.
And Western New England topped Rhode Island College 44-2
JOIN THE TEAM
And if you're a fan of the extensive and broad-based reach of the shows on the Mat Talk Podcast Network, become a TEAM MEMBER today. There are various levels of perks for the different levels of team membership. If you like wrestling content — scratch that — if you LOVE great wrestling content, consider becoming a team member. You'll get some cool stuff too.
The Short Time Time Wrestling Podcast is proudly supported by Compound Clothing.
And if you haven't already, leave a rating and a review on iTunes.
SUBSCRIBE TO SHORT TIME
Apple Podcasts | Stitcher | Spreaker | iHeartRadio | TuneIn Google Play Music | iOS App | Android App | RSS
GET DAILY WRESTLING NEWS!
You like wrestling news, right? Of course you do. Did you know you can sign up for FREE to subscribe to the Mat Talk Online DAILY WRESTLING NEWS e-mail newsletter that's published EVERY morning with the previous day's top news stories from outlets all around the globe. It's free and it's a great way to start your wrestling day.
Almanac Time!
Get the Cadet & Junior Nationals All-American Almanac, a 250-page digital download. It's available now and if you use the promo code "JB" you'll save $5 off the cover price. It's got every All-American EVER in Fargo (and the locations that were before Fargo) and every breakdown by year and state. Oh, you know this guy who says he placed at Juniors? Fact check him or her quickly by buying one now!
Looking to start a podcast of your own?
Get a free month with Libsyn by using the promo code MTO when you sign up. You'll get the remainder of the month from when you sign up as well as the next month free. It'll be enough time to kick the tires and lights some fires.