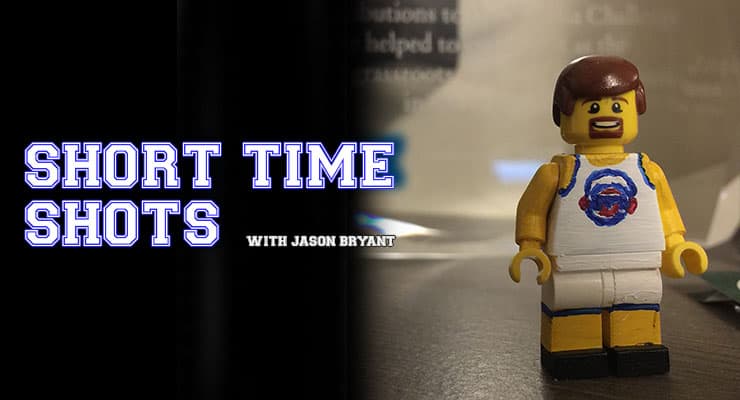 Podcast: Play in new window | Download | Embed
Subscribe to this show via: Apple Podcasts | Google Podcasts | RSS
After a hard day of wrestling, we'll have to take a big drink of Lakini's Juice and call it a day. Ohio State won the Cliff Keen Las Vegas Invitational without Joey McKenna and Kyle Snyder. That doesn't bode well for the rest of the country. This is Short Time Shots with a look back at the wrestling happenings from December 2, 2017. I'll be your heropsychodreamer and Hall of Fame writer, broadcaster and announcer Jason Bryant.
Them Buckeyes earned three titles to outdistance that state down south, aka Michigan, 155.5 to 140. Arizona State was third with 113.5, followed by Northern Iowa, Nebraska and Virginia Tech.
Leading the way for the Buckeyes were champions Luke Pletcher at 133, Myles Martin at 184 and Kollin Moore at 197.
We'll dial it back though and go weight-by-weight as freshman Taylor LaMont became the first wrestler from Utah Valley to win the CKLV by beating Sean Russell of Edinboro 4-3 at 125 pounds. LaMont, a member of the Junior World Team in Greco, was the No. 8 seed and after Friday's win over Ethan Lizak, beat two more All-Americans to cap off a breakthrough event.
At 133, Pletcher got past Stevan Micic in the semis before handling American's Josh Terao 9-2 in the finals. A lot of buzz came out of the tournament from Drexel's Austin DeSanto, who finished fourth, losing to Virginia's Jack Mueller twice. The big the true freshman hype, at least for now, should go with a guy who won the tournament, and that's 141-pound champion Yianni Diakomihalis of Cornell.
The New York native knocked off past NCAA finalist Bryce Meredith in the semifinals before topping Northern Iowa's Josh Alber for the second time this year. Expect a giant jump in the rankings from Yianni D. this week.
Not sure if there's a more underappreciated All-American than Justin Oliver. The Central Michigan junior wrestled exceedingly well en route to the title and a 9-7 win over upstart Troy Heilmann of North Cackalacky. That's southern for Carolina.
Michigan's Alec Pantaelo got off the proverbial schneid with a resounding 10-3 win over Micah Jordan in the finals at 157 pounds. Jordan had avenged an earlier loss to Josh Shields, while Pantaleo was solid in his semi win over Nebraska's Tyler Berger.
David Freaking McFadden is nasty good. The Virginia Tech All-American packed upstart freshman Evan Wick in 2:58 to claim the Hokies only individual title in Vegas. Wick reached the finals as the No. 9 seed.
Arizona State's Zahid Valencia notched his second win of the year over Ohio State's Bo Jordan. This time, the Sun Devil sophomore took home a 9-6 win after a 9-6 win in the semis over the rugged Taylor Lujan of Northern Iowa. Tis Valencia's second straight championship at the event.
Myles Martin scored three takedowns and only gave up escapes and a penalty point in an 8-5 victory over Michigan's Domenic Abonader in a match that wasn't as close as the score indicated.
Kollin Moore shook off Friday's bugaboos and regained the crushing promise he's shown the past two years by hitting a slick fireman's carry on Virginia Tech's Jared Haught and then switched off to a head and arm and registered the first-period fall to win the gold at 197 pounds.
Adam Coon of Michigan would top Arizona State's Tanner Hall as Coon quickly countered a bad Hall shot in sudden victory. Coon wants to fly rockets and stuff. He's big.
Other tournament action that didn't involve that big tournament in Las Vegas was mostly outside of Division I.
Mt. San Antonio College won the Southern Regional championship of the California Community College Athletic Association. The Mounties, yes, the MOUNTIES, only had two champions but 10 of the 12 wrestlers placed in the Top 4. No report from the North Region up at Lassen College in Susanville.
The Mid-South Conference had its women's conference championships on Saturday with Campbellsville picking up four individual titles, not counting Kayla Miracle, who was in Russia at the World Cup. The Mid-South Conference has five of its members fielding women's wrestling programs. Charlotte Fowler, Koral Sugiyama, Alexia Foca, and Kaitlyn Hill claimed gold.
Lightning crashes in York, Pennsylvania as Johnson & Wales won four individual titles to win the New Standard Invitational at York College. Bobby Jordan, Jay Albis, Michael Gargano and Michael DiNardo each claimed titles for Lonnie Morris' Wildcats, again, they aren't just a cooking school.
I alone challenge you to find the reference here. Messiah outdistanced Mount Union to win the Messiah Petrofes Invitational. The Falcons earned three individual championships. Mount Union scored 70 points in its NCAA Division III quarterfinal football win over Frostburg State over the weekend. Oh, we're talking wrestling.
Little alphabet soup as WPI won the RIT Invitational with two champions — Tyler Marsh and Brendan Marion. "Lois, there's a message in my alpha bits, it's saying ooooooo." Peter, those are Cherrios.
By the way, that reference I was mentioning earlier? The band Live is from York, Pennsylvania, so there's the I Alone and the Lightning Crashes references. 90's music fans rejoice.
Speaking of outside of Division I, you can file this under stuff that just never happens. Both Wartburg and Augsburg lost on Saturday. At the same event. To Division III schools. Not sure when, or if, that's ever happened, but it's a big enough anomaly that it leads off our dual meet section of the show.
This craziness happened in La Crosse at the Candlewood Suites duals. Loras, coached by Watrburg alum T.J. Miller, beat Augsburg 17-16 as the Duhawks. Yes, Duhawks, won the last three bouts to rally from a 16-8 deficit. Heavyweight Quin Gillam earned the dual-deciding 5-0 win. Since many of you may not be super familiar with Division III or life outside of D1 wrestling, Loras is in Dubuque, Iowa and they were ranked eighth in the country coming in. Augsburg was second. Loras SID Jim Naprstek even sent me a DM asking if the #1 and #2 teams in D3 ever lost on the same day.
No. 12 UW-Whitewater used a 4-2 decision at 197 pounds by All-American Jordan Newman over Kyle Fank to clinch a 21-20 win over No. 1 Wartburg. Both teams were docked a team point in the dual, with Whitewater's coming after the match had concluded. Crucial swing was at 133 pounds where Hazen Rice was trailing Wartburg's Brennen Doebel 6-3 in the second before Rice reversed Doebel to his back to get the fall at 3:38.
Want to make things even more complicated? Augsburg beat UW-Whitewater 26-16. This should be a real interesting year in D3, especially after the semester break and a few more athletes come into play.
Fourth-ranked Missouri opened up #MACtion with a 36-3 win over visiting Old Dominion. Grant Leeth picked up a fall at 149 pounds while Daniel Lewis picked up a technical fall at 174 to power the Tigers. Playing the name game, ODU's Michael McGee, without an H, beat Missouri's Barlow McGhee, with an H, in the tiebreakers.
It doesn't happen often, but when it does, it makes you wonder how days could be any worse. Sixth-ranked NC State didn't drop a goose egg on Chattanooga, they sent them into negative integers. The Pack beat the Mocs 41 to -1. Team point got deducted after 184 pounds when Pete Renda edged Bryce Carr. The Pack improved to 8-0 already this season.
Northwestern showed some snarl as the much-improved Wildcats handled Maryland 34-12. If you remember last week, Maryland had upended then-No. 21 Stanford. The Cats got falls from Sebastian Rivera at 125, Ryan Deakin at 149 and Johnny Wrestling, aka Johnny Sebastian at 174. The top individual matchup went Maryland's way as heavyweight Youssif Hemida pinned Conan Jennings.
Fire up Dips? Franklin & Marshall topped VMI 25-12. The Diplomats are the only Division III school with a Division I wrestling program. They are the Highlander. There can be only one. Because the Highlander was a documentary and it was based on events that happened in real time! Ok, enough Aqua Teen references. One bright spot for VMI is Hunter Starner picked up a fall at 133 pounds. Starner's from Tabb, my high school rival, but he was part of my old wrestling club, the PWA.
Indiana went 3-0 at the Hoosier duals, beating Northern Illinois, Cleveland State and SIU Edwardsville.
In Division II, fifth-ranked Pitt-Johnstown fell behind early, but came back to win six of the last eight bouts to defeat 10th-ranked Ashland 25-12. Pat Pecora, the AD and head coach at UPJ, started his head coaching career — get this — DURING the Carter Administration. See, it's not just a joke I throw around about Colton McCrystal.
San Francisco State head coach Jason Welch earned his first head coaching win of his career as the Gators beat NAIA Southern Oregon 32-13. San Francisco State trailed 13-10 after five matches, but three of the next five wins were bonus victories, including falls by Sam Alnassiri at 285 and Isaiah Alva at 149.
Mercyhurst scored wins by Penn State transfer Wes Phipps at 197 and Jacob Robb at heavyweight to get past Kerry Regner's Millersville Marauders 22-16 in a matchup of PSAC schools. Mercyhurst also beat LIU Post 25-19. Gannon also went 2-0 with wins over Millersvile an LIU Post. Gannon, like the bad guy in Metroid? Ah, nostalgia. I wasn't any good at that game.
In the NAIA, top-ranked Grand View shut out Benedictine 51-0. The Vikings picked up falls from Blake Joiner at 174 and national champion heavyweight Dean Broghammer. We talked about the rarity of the negative one earlier — coincidentally — negative one was my softball number. Seriously.
Southeastern University of Lakeland, Florida won six out of 10 matches on Saturday against the University of the Cumberlands. But the Patriots' four wins were all by bonus wins, two majors and two falls and those four wins were enough to beat Southeastern 20-19. Quandre Chisolm's major decision at heavyweight pushed coach Chris Fleeger's team to the win. Yes, THAT Chris Fleeger. Lime green buddah still unaccounted for. Southeastern is coached by a former Division I qualifier, Javier Maldonado. The Fire, yes, FIRE, is Florida's only varsity college wrestling program.
Out in Oregon City, Oregon, Clackamas went 3-0 in a dual event it hosted. The Cougars beat junior colleges Highline and Southwestern Oregon and then beat NAIA Warner Pacific. Some names you may have heard of went 3-0 — Ralphy Tovar, Dayton Racer and Gage Harrah.
Every score that I could track down (just a few JUCO's unaccounted for) is at almanac.mattalkonline.com. news and notes can be found daily in your inbox by signing up for my daily wrestling newsletter at mattalkonline.com/news.
Mark Koszyk was an existing team member, but he bumped up the love by going to mattalkonline.com/contribute. You've got until December 6 to enter the drawing for a $150 prize pack courtesy of Compound Clothing. All you have to do is be a current or new team member by contributing a small amount monthly to the Mat Talk Podcast Network. If you listen to this show, or any of them on the network, a buck a month goes a long way. Don't wait for others to take the role of team member, it only takes a buck, or five or whatever to make sure I have the resources necessary to keep providing the wrestling community with daily news, dozens of podcasts and all sorts of historical data. You can directly help further the knowledge of this sport by going to mattalkonline.com/contribute.
That's all for now. Pain Lies on the Riverside.
Yes, another live reference!
JOIN THE TEAM
And if you're a fan of the extensive and broad-based reach of the shows on the Mat Talk Podcast Network, become a TEAM MEMBER today. There are various levels of perks for the different levels of team membership. If you like wrestling content — scratch that — if you LOVE great wrestling content, consider becoming a team member. You'll get some cool stuff too.
The Short Time Time Wrestling Podcast is proudly supported by Compound Clothing.
And if you haven't already, leave a rating and a review on iTunes.
SUBSCRIBE TO SHORT TIME
Apple Podcasts | Stitcher | Spreaker | iHeartRadio | TuneIn Google Play Music | iOS App | Android App | RSS
GET DAILY WRESTLING NEWS!
You like wrestling news, right? Of course you do. Did you know you can sign up for FREE to subscribe to the Mat Talk Online DAILY WRESTLING NEWS e-mail newsletter that's published EVERY morning with the previous day's top news stories from outlets all around the globe. It's free and it's a great way to start your wrestling day.
Almanac Time!
Get the Cadet & Junior Nationals All-American Almanac, a 250-page digital download. It's available now and if you use the promo code "JB" you'll save $5 off the cover price. It's got every All-American EVER in Fargo (and the locations that were before Fargo) and every breakdown by year and state. Oh, you know this guy who says he placed at Juniors? Fact check him or her quickly by buying one now!
Looking to start a podcast of your own?
Get a free month with Libsyn by using the promo code MTO when you sign up. You'll get the remainder of the month from when you sign up as well as the next month free. It'll be enough time to kick the tires and lights some fires.