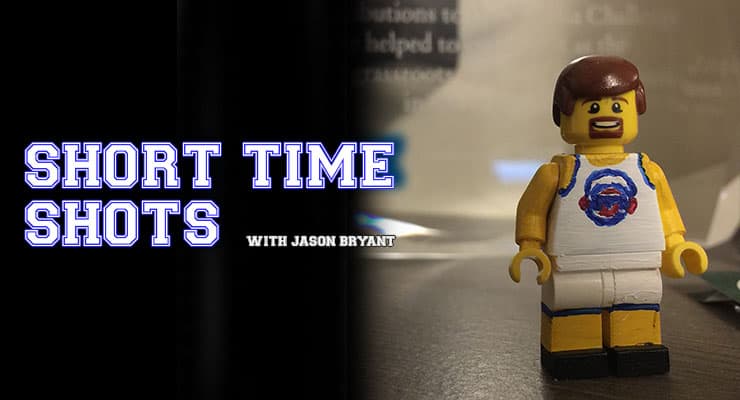 Podcast: Play in new window | Download | Embed
Subscribe to this show via: Apple Podcasts | Google Podcasts | RSS
Another Sunday of wrestling is in the books and a completed garage project is now off my to-do list. It's Short Time Shots, a look at the day's top wrestling scores and more, I'm your host Jason Bryant, and today, we're going to teach poodles how to fly.
Just a limited schedule in Division I, but we had a dandy at sold-out PPL Center in Allentown as No. 1 Penn State rallied to beat No. 5 Lehigh 23-19. The Mountain Hawks took advantage of PSU's lightweight situation as Darian Cruz and Scotty Parker got Lehigh out to a 12-0 lead with back-to-back falls. No, we didn't see Corey Keener for Penn State. Luke Karam extended the lead to 15-0 after a slight 2-0 upset over Jered Cortez. After that, the Penn State buzzsaw would get fired up, but the big five was only four on Sunday as Vincenzo Joseph was also out of action at 165. Zain Retherford and Jason Nolf did Retherford-Nolf kinds of things, while Mark Hall edged Jordan Kutler and Bo Nickal got past Ryan Preisch by matching 3-2 scores.
Anthony Cassar and Nick Nevills closed the door on the upset bid with two decisions. Nevills scored an escape and rode out Jordan Wood to earn a 2-0 win and lock up Penn State's 35th straight dual win. The dual drew 9,896 fans, almost doubling Lehigh's all-time record of just over 5,000 set against Penn State last year.
Next, we discover Secrets of the Universe where today we're going to learn how to make plutonium from common household items.
In Spearfish, South Dakota, 17th-ranked South Dakota State swept the Dakota Showcase, as expected. The Jackrabbits picked up big wins over Division II Augustana — the one in South Dakota obviously — and Northern State as well as one over NAIA Dakota Wesleyan. This event had previously been held in Sioux Falls at the Pentagon — yes, there's an arena with such name, not a giant military office building. Chris Bono's squad now 3-2 on the year.
Frank Beasley may have found the marble in the oatmeal and he gets to drink from the fire hose as his George Mason Patriots picked up a 32-10 win over Sacred Heart on Sunday. The win is Beasley's first as a head coach. As an ODU alum, you know the best thing I can say about George Mason University? At least they're not VCU.
This part of the program brought to you by Spatula City.
On Long Island, Penn went 3-0 at the Hofstra Duals, beating host Hofstra 34-8, The Citadel 35-10 and edging Campbell 16-15. The math tells you it's a 5-5 split so the bonus point that made the difference came at 197 pounds from Frank Mattiace. Hofstra beat The Citadel 43-6 and Campbell beat Hofstra 30-9.
The only other major dual meet event was down in South Cackalacky was Newberry hosted the Newberry Duals. St. Cloud State, the No. 1 team in Division II, went 4-0 and picked up 17 victories by fall. NAIA Life was solid, beating Emmanuel 42-3 and first-year Queens 41-10 before falling to Division II Limestone 23-9. Host Newberry did pick up one seriously big win as Jordan Simpson beat past national champion Brett Velasquez of St. Cloud State at 125 pounds.
Tournament-wise, it was T. Boone Slim Pickens except for Oklahoma State, which won eight titles at the Bob Smith Fort Hays State Open. By the way, I've met Bob Smith. Helluva guy. Seriously. Quality dude all around. Oh, the tournament. Boo Lewallaen beat Geo Martinez — again — at 149 pounds. They're both Cowboys. Nebraska freshman Mikey Labriola topped Jacobe Smith of Oklahoma State 7-6 at 174.
At the MSU Moorhead Dragon Open, the only real notable was at heavyweight and it's only notable to most because these guys were hammers in high school. North Dakota State's Brandon Metz pinned South Dakota State's Kevin Vough in the finals of the Red Division.
At the Colorado Mesa Open, mostly Division II guys out there, but Utah Valley's Tate Orndorff did earn a fall in 16 seconds, the fastest of the tournament.
Be sure to check out the trailer for Conan the Librarian, that's all I've got for now, remember, we've got it all on UHF, I'm Jason Bryant.
JOIN THE TEAM
And if you're a fan of the extensive and broad-based reach of the shows on the Mat Talk Podcast Network, become a TEAM MEMBER today. There are various levels of perks for the different levels of team membership. If you like wrestling content — scratch that — if you LOVE great wrestling content, consider becoming a team member. You'll get some cool stuff too.
The Short Time Time Wrestling Podcast is proudly supported by Compound Clothing.
And if you haven't already, leave a rating and a review on iTunes.
SUBSCRIBE TO SHORT TIME
Apple Podcasts | Stitcher | Spreaker | iHeartRadio | TuneIn Google Play Music | iOS App | Android App | RSS
GET DAILY WRESTLING NEWS!
You like wrestling news, right? Of course you do. Did you know you can sign up for FREE to subscribe to the Mat Talk Online DAILY WRESTLING NEWS e-mail newsletter that's published EVERY morning with the previous day's top news stories from outlets all around the globe. It's free and it's a great way to start your wrestling day.
Almanac Time!
Get the Cadet & Junior Nationals All-American Almanac, a 250-page digital download. It's available now and if you use the promo code "JB" you'll save $5 off the cover price. It's got every All-American EVER in Fargo (and the locations that were before Fargo) and every breakdown by year and state. Oh, you know this guy who says he placed at Juniors? Fact check him or her quickly by buying one now!
Looking to start a podcast of your own?
Get a free month with Libsyn by using the promo code MTO when you sign up. You'll get the remainder of the month from when you sign up as well as the next month free. It'll be enough time to kick the tires and lights some fires.