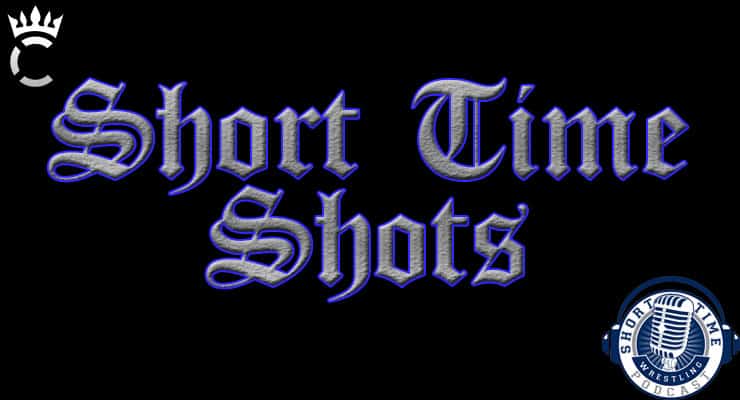 Podcast: Play in new window | Download | Embed
Subscribe to this show via: Apple Podcasts | Google Podcasts | Spotify | iHeartRadio | Stitcher | TuneIn | RSS | More
Finally, wrestling has COME BACK TO FRESNO. With apologies to Dwayne "The Rock" Johnson, that's the top story for Friday, November 17. This is SHORT TIME SHOTS, I'm Hall of Fame announcer, broadcaster and writer Jason Bryant
What isn't a top story — I actually owned the original version of NBA Jam with Charles Barkley on the Phoenix Suns instead of THUNDER Dan Majerle. But he coaches Grand Canyon and they cut wrestling, so screw them.
While the score wasn't super important, the fact we had wrestling at the SaveMart Center in Fresno, California for the first time in almost 11 years, that's the deal. Sure, 14th-ranked Illinois piled up bonus points and Isaiah Martinez won his 100th collegiate match, but we saw a school President, Joseph Castro, man up and say "This area cares about wrestling and we're bringing back our team." Donkey like former AD Thomas Boeh might have put the team on ice for a while, but coach Troy Steiner and his crew are going to build a winner in the Central Valley    That didn't happen on Friday though. Two big wins were registered by the Bulldogs, whom I represented today with #WrestlingShirtADay. Kristian Olivas topped Eric Barone at 149 and Greg Gaxiola knocked off Kyle Langenderfer. I just want to play some Nerfherder after saying Langenderfer. Santa has a Mullet — look it up, it's a song by Nerfherder.
Oh, I-Mar improved to 100-2 all-time. He's good.
Top-ranked Penn State is probably the best road draw attendance-wise in the country. The Nittany Lions saw over 3,000 witness their 40-2 blitzkrieg of Binghamton on Friday night. Seven of the Penn State wins came via bonus points with Jason Nolf and Zain Retherford each earning falls, while Bo Nickel fell to third in the Penn State individual Hodge standings merely capturing a major decision. The one Penn State loss? You guessed it, 125.
No. 6 Minnesota headed west to Brookings and beat No. 16 South Dakota State in front 3,063 fans at Frost Arena. The highlight there was at 133 pounds where No. 1 Seth Gross topped No. 6 Mitch McKee 9-4. South Dakota State did score a modest upset at 157 pounds where Luke Zilverberg beat 10th-ranked Jake Short 5-2.
No. 8 Iowa swept the Iowa City Duals. In other news, water is wet.
Zack Zavatsky needed overtime to get past Bryce Carr at 184 pounds in the top bout of the night as No. 9  Virginia Tech beat host Chattanooga 28-7. Little homer note, B.C. LaPrade picked up his first career dual meet victory. He's from New Kent, which is right up the road from where I grew up and he's named after a headache power for a reason.
Even without a couple of its regular starters, 10th-ranked Lehigh flew past No. 24 Edinboro 27-14. Scott Parker continued his torrid start, pinning nationally ranked Korbin Myers at 5:33 to spark the Mountain Hawks victory. Also of note for Lehigh, Gordon Wolf earned a 16-8 major decision over Austin Matthews at 165.
On paper, Cornell didn't look that strong. On the mat, No. 19 Cornell said we're Ivy Leaguers, whatever that means. The Big Red won seven of 10 and got three falls en route to a 30-10 pasting of No. 13 Northern Iowa. Chaz Tucker set the tone with a fall over Jack Wagner to start the dual at 133, while Jon Jay Chavez and Ben Darmstadt also picked up pins. 184-pound freshman Max Dean, the younger brother of four-time All-American Gabe, announced his presence Nuke Laloosh style — with authority — beating All-American Drew Foster 9-7. Also in the dual, UNI's Taylor Lujan beat All-American Brandon Womack 5-3. Oh, and that freshman, Yianni Diakomihalis, he beat Josh Alber 5-2.
Two-time All-American Bryce Meredith topped super freshman Chad Red 11-5 at 141, but that was the only read bright spot for the Cowboys as the Huskers won seven out of 10 to cruise. Nebraska's Tyler Berger outlasted Archie Colgan 5-4 at 157, while Nebraska's Isaiah White, last year's Division II champion at Notre Dame College, topped Branson Ashworth 7-5.
Ryan Solomon's major decision at heavyweight rallied No. 25 Pittsburgh past CSU Bakersfieid. Things weren't so hot for the Panthers otherwise, as No. 18 Wisconsin declawed Pitt 26-6. Yes, cliché puns!
Elsewhere, Virginia topped Gardner-Webb 30-11. The Wahoos picked up falls from Louie Hayes at 125 and Andrew Atkinson at 165.
In Division II, No. 6 Pitt-Johnstown topped PSAC rival Kutztown 24-10. Five of the six ranked Mountain Cat wrestlers picked up victories, including a technical fall at 174 pounds from 2016 D2 champion Tyler Reinhart. Kutztown's Ryan Appleby, ranked fifth, did knock off 11th-ranked D.J. Sims 5-3 at heavyweight.
In the NAIA, fifth-ranked Providence welcomed a new member to the family as head coach Caleb Schaeffer and his wife Annie welcomed Kamden Kendrick to the world. He's already able to take dad down. The school, formerly known as Great Falls, gave Coach Schaeffer a nice "it's a boy" gift, beating Warner Pacific 34-11. Sixth-ranked University of the Cumberlands — they're coached by Chris Fleeger — the Patriots beat Indiana Tech 31-13. No. 11 Southern Oregon also beat Eastern Oregon in a directional battle in the Cascade Conference.
And of note in the junior college ranks, Western Wyoming topped Northwest College 30-15. What's notable about a junior college dual between teams most of you have probably never heard of? Well, Uzbekistan native Nodir Safarov, who's ranked in the WORLD, is wrestling at 133 pounds for Northwest College. He had a fall in 26 seconds.
BOOM SHAKA LAKKA.
The Short Time Time Wrestling Podcast is proudly supported by Compound Clothing.
And if you haven't already, leave a rating and a review on iTunes.
SUBSCRIBE TO SHORT TIME
Apple Podcasts | Stitcher | Spreaker | iHeartRadio | TuneIn
Google Play Music | iOS App | Android App | RSS
GET DAILY WRESTLING NEWS!
You like wrestling news, right? Of course you do. Did you know you can sign up for FREE to subscribe to the Mat Talk Online DAILY WRESTLING NEWS e-mail newsletter that's published EVERY morning with the previous day's top news stories from outlets all around the globe. It's free and it's a great way to start your wrestling day.
Almanac Time!
Get the Cadet & Junior Nationals All-American Almanac, a 250-page digital download. It's available now and if you use the promo code "JB" you'll save $5 off the cover price. It's got every All-American EVER in Fargo (and the locations that were before Fargo) and every breakdown by year and state. Oh, you know this guy who says he placed at Juniors? Fact check him or her quickly by buying one now!
Looking to start a podcast of your own?
Get a free month with Libsyn by using the promo code MTO when you sign up. You'll get the remainder of the month from when you sign up as well as the next month free. It'll be enough time to kick the tires and lights some fires.