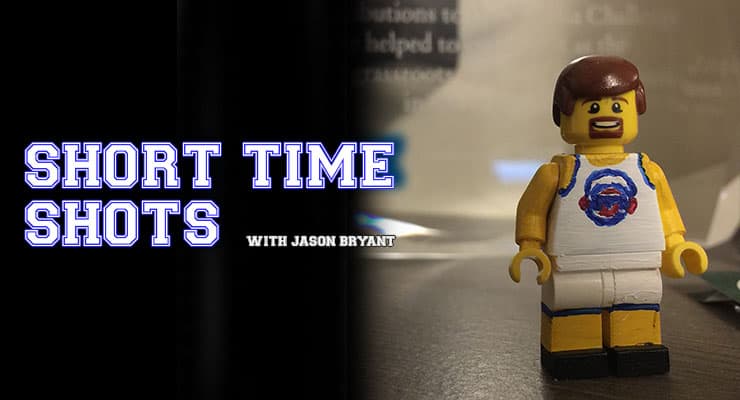 Podcast: Play in new window | Download | Embed
Subscribe to this show via: Apple Podcasts | Google Podcasts | RSS
Elton John sang something about Saturday night. I'm just trying not to get my butt kicked by my wife in Dr. Mario yet again. This is Short Time Shots for November 18, 2017. I'm Jason Bryant and spent the day over at Augsburg UNIVERSITY. Sorry Kyle Simmons, that is NOT a pun.
Before I begin this monologue, I want to explain one thing about this particular version of the show. If I don't get to a score, it's because there was too much stuff to talk about. The point of this is to be short, not analyze every single dual that comes out. If it's notable, and I'm not being lazy, it'll make the show. Best way to make the show? Schedule duals for Tuesdays, there's not much going on then.
Now, dual-meet wise, it was slow in Division I, however Kerry McCoy's Maryland Terrapins went west and beat No. 21 Stanford 18-15. McCoy spent time in Palo Alto as the Cardinal head coach prior to coming to Maryland, so he knows the landscape well. Saturday's however, was OUTSIDE. Yes, Maryland's wrestled TWO outdoor duals this year. Swing match at the dual came at heavyweight where Youssif Hemida topped Nathan Butler 3-1 to give the Terps the win. Maryland was put in a position to win when Brandon Cray. Wait, WHO? Beat All-American Connor Schram 8-7 at 125. Who the heck is Brandon Cray. A pretty solid kid out of New Jersey who went 26-7 during his redshirt year. Stanford surely to drop out of the Top 25 this week. Don't expect Maryland to jump in, though.
Missouri won 10 overall titles at the Joe Parisi Lindenwood Open, but six of them were in the Open Division, so we're focusing action there. The big Missouri outcome was actually a loss by All-American Willie Miklus at 197 pounds. Coming back off an injury and moving up a weight, he was majored by Iowa true freshman Jacob Warner. That's going to be quite the result when it comes time to pull or not to pull redshirts up in Iowa City.
Of note, Barlow McGhee won at 125 in a weight where Zeke Moisey again struggled, defaulting to sixth after losing to Oklahoma's Christian Moody. Daniel Lewis looked sharp up at his new weight class, beating Oklahoma's Yoanse Mejias at 174 and the lone non-D1 champion — DEMETRIUS Thomas, the returning NAIA champion from Williams Baptist. He beat Missouri's Austin Myers 7-1.
There was a team-scored invitational in Division I where Navy won its own Navy Classic by outdistancing Purdue 112.5 to 100.5. Old Dominion was third with 98.5
Navy crowned three champions — Nicholas Gil at 141,Drew Daniels at 165 and Jaeden Bernstein at 174. Brown was the only other team with two champions as the Bears, yes, they are the BROWN BEARS, had champs from Justin Staudenmayer and Christian LaFragola. Notable champions included Luke Welch of Purdue at 125, Josh Terao of American at 133, Matthew Kolodzik of Princeton at 149, Cory Griego of Oregon State at 197 and Mike Hughes of Hofstra at heavyweight.
At the Georgia Open hosted by Emmanuel College, Maveric Rechsteiner captured the championship at 285 pounds. Some of you already know why I'm plugging this one. Rechsteiner is the son of Rob Rechsteiner, whom many of you may know as professional wrestler Rick Steiner. Pretty cool.
Wesleyan captured the championship at the Doug Parker Invitational held at Springfield College in Springfield, Mass. Coach Drew Black's Cardinals won three weights and placed eight overall to outdistance second-place Southern Maine 125-116.
Back in Division I, NC State swept three opponents at the Wolfpack Duals. The seventh-ranked Pack beat Utah Valley 34-6, Division II UNC Pembroke 48-0 and NAIA Reinhardt 54-0.
In Division II, Seton Hill rallied to win the last four bouts to defeat Millersville 20-18. You're going to see a theme developing here. Damon Greenwald, Billy Bowlen, Jacob Temple and Jody Crouse swept 174 through heavyweight to give the Griffins the win. Of note on the Millersville side of things, 125-pounder Aaron Wildonger pinned third-ranked Alan Diltz in the first period.
Other shoutouts go to Thomas More in Division III winning three duals on the day, topping Trine, MacMurray and Ancilla. That's Thomas More, the school, not a singular person. The school is named after a person. You get the idea. The Saints, YES, Thomas More, like in the Val Kilmer movie The Saint. Still my favorite movie with Elisabeth Shue. Seriously.
Dual action in Division III and a BIG ONE held at Roanoke Catholic High School in Roanoke, Virginia sees No. 11 Ferrum rip off five straight individual matches to come from behind to beat No. 3 Stevens Tech 21-18. The Panthers, in just the program's fifth year, registered the program's biggest win to date. Wins down the stretch by Andrew Tolbert, Blake Rosenbaum, Zach Shaffer, Hunter Goulart and Carlos Leyva gave Nate Yetzer's squad the win. They are rolling there in Southwest Virginia.
It was somewhat similar for another Virginia school, but in the other direction as Averett University wrestled its first dual as a first-year program and fell to Huntingdon 24-21. The Hawks won the last four matches, all by bonus points, to rally from a 21-3 deficit.
Baldwin Wallace went 4-0 at the Mount Union Duals. Jamie Gibbs' squad is serving as the host for the Division III National Championships this year in Cleveland. Muhlenberg hosted and won the Scotty Wood Duals, beating Camden County College in the final.
On the women's side, McKendree came away with the team championship at the Missouri Valley Invitational. The Bearcats placed 11 and crowned three individual champions. Brenda Reyna had three techs and a fall en route to her title at 123 pounds. Senior Megan Black, a U23 World Teamer, went 4-0 to take gold at 130, while Junior World bronze medalist Alexis Porter went 5-0 to win the title at 143.
Get all those scores and more at the nation's most robust college wrestling scoreboard at mattalkonline.com/scoreboard. Olivet Duals, Star City Duals and McDaniel duals still need to be added in the morning, but until then, show us some love by contributing to the network at mattalkonline.com/jointheteam.
I got no Elton John jokes, except the whole Diet Coke campaign he had in the 90s. And some people I know saw him in Baku in 2007.
The Short Time Time Wrestling Podcast is proudly supported by Compound Clothing.
And if you haven't already, leave a rating and a review on iTunes.
SUBSCRIBE TO SHORT TIME
Apple Podcasts | Stitcher | Spreaker | iHeartRadio | TuneIn
Google Play Music | iOS App | Android App | RSS
GET DAILY WRESTLING NEWS!
You like wrestling news, right? Of course you do. Did you know you can sign up for FREE to subscribe to the Mat Talk Online DAILY WRESTLING NEWS e-mail newsletter that's published EVERY morning with the previous day's top news stories from outlets all around the globe. It's free and it's a great way to start your wrestling day.
Almanac Time!
Get the Cadet & Junior Nationals All-American Almanac, a 250-page digital download. It's available now and if you use the promo code "JB" you'll save $5 off the cover price. It's got every All-American EVER in Fargo (and the locations that were before Fargo) and every breakdown by year and state. Oh, you know this guy who says he placed at Juniors? Fact check him or her quickly by buying one now!
Looking to start a podcast of your own?
Get a free month with Libsyn by using the promo code MTO when you sign up. You'll get the remainder of the month from when you sign up as well as the next month free. It'll be enough time to kick the tires and lights some fires.