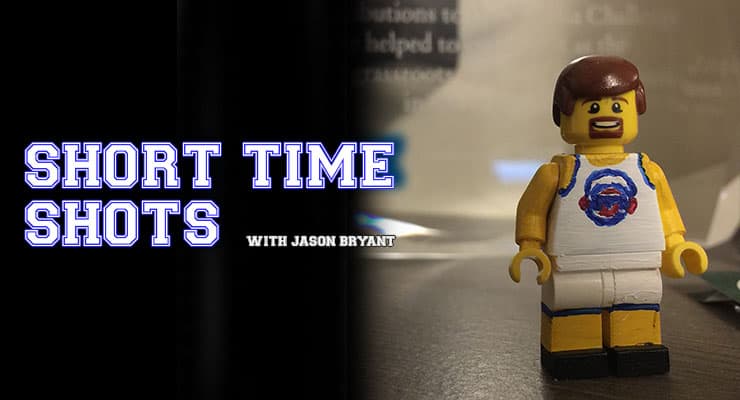 Podcast: Play in new window | Download | Embed
Subscribe to this show via: Apple Podcasts | Google Podcasts | RSS
Fantasy football sucks the life out of me. It really does. This is Short Time Shots for Sunday, November 19, 2017 and let's just say, I'm having more success starting guys like Case Keenum than I am "fantasy studs." I'm also recording these in one take. If I flub, I flub. Who am I? Hall of Fame announcer Jason Bryant, that's who!
Very limited schedule across the country on this, the Sunday before Thanksgiving here in the United States, but the five Division I duals we saw all involved ranked teams. The question is, where do we start? We had two top 10 duals ? ah, let's start with the upset.
And by upset, we mean No. 10 Lehigh pasting No. 4 Michigan at Grace Hall in Bethlehem, Pennsylvania 27-8. On paper, people believed this Michigan team could make a run at the NCAA title. I even mentioned to Richard Immel on Bonus Points on Friday that Michigan could take some dual losses and still come out as a threat.
On Sunday, Lehigh wasn't impressed by the credentials, the hype or the ranking as Pat Santoro's 10th-ranked Mountain Hawks scored sizable wins from Ian Brown at 157, Jordan Kutler at 174 and Ryan "The Preisch is Right" at 184. At this rate, it's doubtful anyone's going to drop a weight, especially Preisch, who topped Domenic Abounader 3-1 at 184 and Kutler, who topped All-American Alec Pantaleo at 157. Scotty Parker using that RP Norley Pennridge strength registered another fall, although it was over Michigan backup Michael Volyanyuk.
In Stillwater, we were expecting a tight dual with third-ranked Oklahoma State and sixth-ranked Minnesota. A bunch of matches were tight, but the dual score wasn't. The Cowboys gave coach John Smith his 400th career dual victory with a 30-3 beatdown of the Golden Gophers. The Cowboys won five matches decided by two points or less.
Minnesota's lone bright spot came at 125 where returning NCAA finalist Ethan Lizak rallied to beat Nick Piccininni 10-9. Piccininni built an 8-1 lead at the end of the first period before Lizak chose top and scored six nearfall points in two different sequences. In the third, Piccininni chose neutral and gave up the go-ahead takedown. A riding time point would be the final difference maker.
The rest of the dual — uffda. Kaid Brock scored four takedowns to beat Mitch McKee 9-7 in a bout that wasn't as close as the score indicated. Dean Heil needed a third-period takedown to do Dean Heil types of things and beat Tommy Thorn 3-1.
No. 9 Virginia Tech looked strong to quite strong in a maroon battle against Central Michigan. The Hokies won eight out of 10 and too both head-to-head ranked matchups to earn the win in Cassell Coliseum. At 149, Solomon Chishko topped Justin Oliver 3-1 in a matchup of past All-Americans while Zack Zavatsky topped Jordan Ellingwood 7-4 at 184. For the second straight time, B.C. "The Headache Powder" LaPrade makes the show. He upset Collin Heffernan 3-1 in sudden victory. Being a Poquoson grad, I can't give the New Kent guy TOO much pub.
Arizona State took center stage, LITERALLY, as the Sun Devils hosted a theater-style dual against No. 25 Pittsburgh. The end result was more tragedy for the Panthers than it was comedy as the Sun Devils won eight of 10 bouts to cruise to a 32-6 win. Coach Zeke "My real name is Larry" Jones saw his team win both of the notable matches as Josh Shields beat Taleb Rahmani at 157 and Tanner Hall beat Ryan Solomon in one of those thrilling escape-riding time 2-0 wins.
No. 13 Northern Iowa rebounded from Friday's loss to win its first Big 12 dual with a 21-19 win over North Dakota State in Cedar Falls. At 141, Josh Alber scored the match-winning individual victory with a technical fall in the final match of the dual.
Penn State crowned seven champs at the Keystone Classic at The Palestra hosted by Penn (singular). Zain Retherford won his 100th career bout during the course of the event, while Jason Nolf pinned his way through at 157 pounds. Bo Nickal scored three falls and a tech en route to the title at 184. Other Penn State champs were Jered Cortez at 141, Anthony Cassar at 197, Nick Nevills at heavyweight and Mark Hall at 174, who went fall, fall, tech tech, fall. Kinda like that whole duck-duck-grey duck thing they do out here. I still think it's duck-duck-goose.
Cornell won the New York State Intercollegiate championships, there wasn't a whole lot of comp to challenge the Big Red this year. Lock Haven won four titles at the Black Knight Invitational at Army West Point — yes, you kind of have to say the whole "Army West Point" thing now. Something about branding. The Bald Eagles got golds form Kyle Shoop-Shoop-ay-Doop, Chance Marsteller and a pair of Solanco Mules — Ronnie Perry and Thomas Haines. Lancaster-Lebanon League representing the 717 there.
NC State won five titles at the Wolfpack open. Yup. They hosted. Wisconsin won five titles out west at the Roadrunner Open hosted by CSU Bakersfield. Top win there was probably Ricky Robertson's 3-1 overtime win over Emery Parker of Illinois.
In Division III, John Carroll swept the John Carroll duals, earning wins over Case Western Reserve, Penn State Behrend, Lycoming, Alfred State and Lourdes.
Gettysburg won three matches at the Green Terror Duals in Westminster, Maryland. Yes, the Green Terror is the nickname of McDaniel College, formerly known as Western Maryland. Coach Andy Vogel's Bullets topped Division II Alderson-Broaddus 30-14, Penn State-Mont Alto 57-0 and Scranton 27-15. Gettysburg 133-pounder Louie Carusillo picked up the Dundie Award for fastest fall in the dual against Scranton.
All the scores and tournament results and standings can be found at mattalkonline.com/scoreboard. Get this news and a ton more each and every morning with my free daily wrestling newsletter, you can sign up at mattalkonline.com/news and you can drop a dollar in the tip jar over at mattalkonline.com/jointheteam. Your contributions keep the lights on and keep these shows free of ads for crap you don't need.
In case you're wondering, my team names this year in fantasy football are not that good. The only one I stuck with was the Berlin Walleye. I'm actually losing to a bunch of other podcast nerds in one league. I'm like 0-10. But I'm in the running in my league with a bunch of former colleagues from the paper, some of whom are NFL beatwriters. Podcasters know more about fantasy football than sportswriters. That's today's lesson.
The Short Time Time Wrestling Podcast is proudly supported by Compound Clothing.
And if you haven't already, leave a rating and a review on iTunes.
SUBSCRIBE TO SHORT TIME
Apple Podcasts | Stitcher | Spreaker | iHeartRadio | TuneIn Google Play Music | iOS App | Android App | RSS
GET DAILY WRESTLING NEWS!
You like wrestling news, right? Of course you do. Did you know you can sign up for FREE to subscribe to the Mat Talk Online DAILY WRESTLING NEWS e-mail newsletter that's published EVERY morning with the previous day's top news stories from outlets all around the globe. It's free and it's a great way to start your wrestling day.
Almanac Time!
Get the Cadet & Junior Nationals All-American Almanac, a 250-page digital download. It's available now and if you use the promo code "JB" you'll save $5 off the cover price. It's got every All-American EVER in Fargo (and the locations that were before Fargo) and every breakdown by year and state. Oh, you know this guy who says he placed at Juniors? Fact check him or her quickly by buying one now!
Looking to start a podcast of your own?
Get a free month with Libsyn by using the promo code MTO when you sign up. You'll get the remainder of the month from when you sign up as well as the next month free. It'll be enough time to kick the tires and lights some fires.