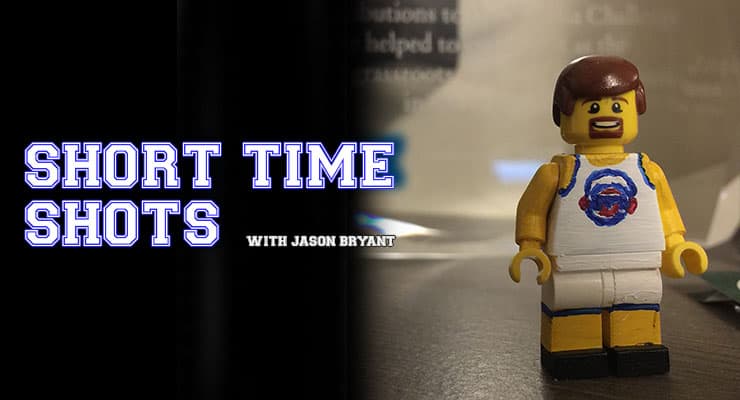 Podcast: Play in new window | Download | Embed
Subscribe to this show via: Apple Podcasts | Google Podcasts | RSS
I got no crazy intro here because I spent two hours on a call tonight with Mason Beckman. It's coming up on Short Time which will be put out on Wednesday. As for now, I'm Hall of Fame wrestling writer, broadcaster and announcer Jason Bryant, and this is Short Time Shots, a quick recap of the day's college wrestling action and news from November 21, 2017.
The pin chain was in full effect at St. John Arena in Columbus where second-ranked Ohio State won two "duals" against Cleveland State and Kent State at the Thanksgiving Throwdown. Luke Pletcher, Micah Jordan, Kollin Moore and Kyle Snyder each had falls on the day. The Buckeyes beat Kent State 38-9 and Cleveland State 43-3. Kent State topped Cleveland State 36-9.
Air Force and Fresno State matched up on Tuesday ON A BOAT. Well, technically the USS Midway is an aircraft carrier. Air Force encroached on its military comrades to use their boat and beat the start-up Bulldogs 24-12. This one's drawn considerable media attention, check out the daily wrestling newsletter by signing up at mattalkonline.com/news to read all about it.
In Division II, King rallied from a 22-6 deficit to win the last four weights to beat Belmont Abbey 23-22 in an ECAC matchup. Virginia Beach native Eldon Valery picked up his match-winning takedown in sudden victory at 285 pounds that also gave the Tornado the team win.
Also in the mix there was Queens University earning its first dual meet win in school history. Ken Chertow's Royals — yes, THAT Ken Chertow — won eight out of 10 bouts and Seth Petarra, yes, the same Seth Petarra who goes bonkers over international wrestling rankings, earned the lone fall of the dual for Queens. It's the first year of the program, which is going to compete as an NCWA team this season before fully competing in Division II next year. And yes, you WILL get an e-mail about it.
Sixth-ranked Pitt-Johnstown won again. The Mountain Cats beat East Stroudsburg 34-9 in a PSAC tilt.
In Division III, second-ranked Augsburg trounced St. Olaf 42-9. Yes, I know, I know. You think I'm going to make a reference about that show and that one woman who's still alive at like 900 years old. Well, I won't. Alex Wilson notched the fastest fall of the night for the Auggies, a 57-second fall at 149.
Augsburg is the Auggies, St. Olaf is the Oles, St. John's in the Johnnies ? oh, it gets worse. Other schools in that conference are St. Thomas. They're the Tommies. Gustavas Adophus? The Gusties. And Concordia out in Moorhead? Well, they're at least sane. Fear the Ear. They're the Cobbers. My niece Ashley is a freshman there this year.
One of the ol' clients here on the Mat Talk Podcast Network is the Beavers of Buena Vista. Well things didn't go great for the Beavers tonight as Northwestern College of Iowa had just a few too many bonus points to get the 20-18 victory. Northwestern is an NAIA school in Orange City, Iowa, but they're the RED Raiders. No worries, coach Rik Dahl is color blind.
Graceland got all shook up beating Ottawa 35-12 in NAIA action. The Yellow Jackets are off to a solid start this year. U. of the Cumberlands topped Division II Bellarmine 26-17 in a matchup of Kentucky programs.
UW-Eau Claire beat Luther 27-14, while UW-Whitewater beat UW-Platteville 33-10. That does it for all the YOU DUBS tonight. We'll to east where WPI topped Western New England 36-9 in a New England matchup. There's a TON of D3 schools in New England. I still have yet to visit Maine, Rhode Island, Vermont and New Hampshire. Don't worry, Massachusetts, you're good. I was up there in 1992.
In the junior college ranks, we had CRITERIA SEVEN!
A few years ago, when Rider beat Wisconsin on what was then the fourth criteria, first takedown, people were incensed. Then, they should have cared a year earlier, since it was a full year after the "first takedown" criteria was instituted as the fourth criteria but it hadn't decided a D1 dual until then. Well, now we've got first takedown still as a criteria, but it's the last one. SEVENTH on the list. So how'd this happen on Tuesday? Itasca Community College and Minnesota West, two two-year institutions up here in the great state of Minnesota went back and forth. There were only four bouts wrestled, so we had six forfeits — which sucks.
But all 10 bouts were six-point victories, thus, there were no individual match scores to tabulate with other criteria and there were no penalty points. Ultimately, it was Tanner Reetz who scored the first takedown of the dual to give Itasca the win. Oh you wacky JUCO's.
I should have asked Beckman what Lehigh's REAL mascot is. To many, they're still the Engineers. To Gimp, they're the South Mountaineers or Turkey Buzzards or something.
JOIN THE TEAM
And if you're a fan of the extensive and broad-based reach of the shows on the Mat Talk Podcast Network, become a TEAM MEMBER today. There are various levels of perks for the different levels of team membership. If you like wrestling content — scratch that — if you LOVE great wrestling content, consider becoming a team member. You'll get some cool stuff too.
The Short Time Time Wrestling Podcast is proudly supported by Compound Clothing.
And if you haven't already, leave a rating and a review on iTunes.
SUBSCRIBE TO SHORT TIME
Apple Podcasts | Stitcher | Spreaker | iHeartRadio | TuneIn Google Play Music | iOS App | Android App | RSS
GET DAILY WRESTLING NEWS!
You like wrestling news, right? Of course you do. Did you know you can sign up for FREE to subscribe to the Mat Talk Online DAILY WRESTLING NEWS e-mail newsletter that's published EVERY morning with the previous day's top news stories from outlets all around the globe. It's free and it's a great way to start your wrestling day.
Almanac Time!
Get the Cadet & Junior Nationals All-American Almanac, a 250-page digital download. It's available now and if you use the promo code "JB" you'll save $5 off the cover price. It's got every All-American EVER in Fargo (and the locations that were before Fargo) and every breakdown by year and state. Oh, you know this guy who says he placed at Juniors? Fact check him or her quickly by buying one now!
Looking to start a podcast of your own?
Get a free month with Libsyn by using the promo code MTO when you sign up. You'll get the remainder of the month from when you sign up as well as the next month free. It'll be enough time to kick the tires and lights some fires.