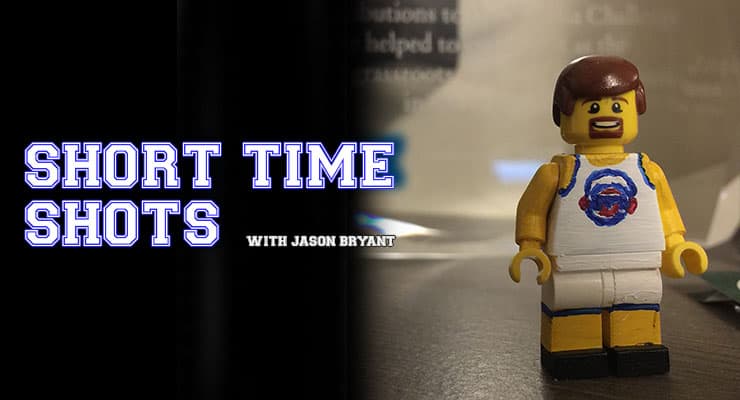 Podcast: Play in new window | Download | Embed
Subscribe to this show via: Apple Podcasts | Google Podcasts | RSS
For those of you with kids, it certainly sucks when they're sick. I'm dealing with that right now. Having to keep the 16-month-old active and away from her big sister while she decides to empty the contents of her stomach. It's seriously the saddest thing. Hopefully some of this news will be a pick-me-up. My recent outlet, home improvement, also took its shots at me as I got hit in the face by a nail as I was prying old nails from out of my soon-to-be destroyed deck.
But this isn't This Old House or Quincy — a reference those of you over 45 might get — this is Short Time Shots, a quick look back at the day's notable scores and more from the world of college wrestling — I'm Jason Bryant and my face hurts.
In Blacksburg, Virginia, the Moss Arts Center was literally center stage as No. 4 Missouri faced No. 10 Virginia Tech in this season's top dual so far. Virginia Tech came out flat, while Missouri was wrestling crisp and clean even without the services of All-American Jaydin Eierman. With nine of the 10 bouts featuring ranked opponents in some way, shape or form, there were numerous toss-ups. One such toss-up came at 133 where John Erneste controlled the action on his feet to top a dangerous Dennis Gustafson by an 11-2 major decision. Grant Leeth scored the biggest win of his college career, an 8-2 win over two-time All-American Solomon Chiskho. The dual's biggest individual match was also its most surprising, not by who won, but by how.
Second-ranked Jared Haught of Virginia Tech was up 7-2 in the third and appeared to be finishing a takedown before Willie Miklus, who's fresh off a pasting by Iowa freshman Jacob Warner, whipped Haught through and rolled him over, pressed him flat, pinned his shoulders, to the mat. Miklus' fall sealed the win for the Tigers.
No. 13 Nebraska headed east to West Virginia and trounced West Virginia 28-13 in Morgantown. With no individual matchups featuring ranked wrestlers, no Zeke Moisey and a forfeit at 133, this matinee was rather ho-hum. Bloodround's favorite heavyweight, David Jensen, earned a fall in 3:17.
Looking for some #MACTION? The State University of New York AT Buffalo, AKA the University AT Buffalo, not OF Buffalo picked up its first MAC dual win of the year topping Ohio U. 27-9 IN Buffalo on Saturday afternoon.
Individually, Kyle Akins and Joe Ariola scored falls to propel the Bulls, but Ohio got the top individual win of the night as No. 18 Cam Kelly topped No. 5 Bryan Lantry 4-3 at 133 pounds.
Internationally ? check out TheMat.com and Trackwrestling.com for coverage of the U23 World Championships from Poland. There isn't much for the U.S. t o celebrate. Andy Hamilton had sausage and pierogis for Thanksgiving, I hear.
So while I've got your attention, I'll be pushing out a Giving Tuesday promotion for those who are part of the Mat Talk Online daily wrestling news mailing list and for current team members of the Mat Talk Podcast Network.
What is a team member, you ask? Well, it's a group of people who are generously supporting this network and the original, on-demand content it provides. So between now — which is November 25 and December 6, which is not an arbitrary date, it's my dad's birthday — any NEW team members who sign up for a monthly contribution to the Mat Talk Podcast Network at mattalkonline.com/jointheteam will be entered in a drawing for a gift pack from Compound Clothing and Compound Team Wear valued at around $150. Knowing Cliff Fretwell, it'll probably be worth more. And yes, current team members, since you're an on-going contributor, you are entered in the drawing too. I will sweeten the deal for new patrons though, but that's a secret!
So go to mattalkonline.com/jointheteam and become a team member to support this network and this program as well as to register for a drawing and contribute to this network.
I'm now off to a world of Children's Tylenol and watching replays of my alma mater getting beat on a half-court shot at the buzzer. Freaking William & Mary.
I'm Jason Bryant and JOIN THE TEAM!!!
JOIN THE TEAM
And if you're a fan of the extensive and broad-based reach of the shows on the Mat Talk Podcast Network, become a TEAM MEMBER today. There are various levels of perks for the different levels of team membership. If you like wrestling content — scratch that — if you LOVE great wrestling content, consider becoming a team member. You'll get some cool stuff too.
The Short Time Time Wrestling Podcast is proudly supported by Compound Clothing.
And if you haven't already, leave a rating and a review on iTunes.
SUBSCRIBE TO SHORT TIME
Apple Podcasts | Stitcher | Spreaker | iHeartRadio | TuneIn Google Play Music | iOS App | Android App | RSS
GET DAILY WRESTLING NEWS!
You like wrestling news, right? Of course you do. Did you know you can sign up for FREE to subscribe to the Mat Talk Online DAILY WRESTLING NEWS e-mail newsletter that's published EVERY morning with the previous day's top news stories from outlets all around the globe. It's free and it's a great way to start your wrestling day.
Almanac Time!
Get the Cadet & Junior Nationals All-American Almanac, a 250-page digital download. It's available now and if you use the promo code "JB" you'll save $5 off the cover price. It's got every All-American EVER in Fargo (and the locations that were before Fargo) and every breakdown by year and state. Oh, you know this guy who says he placed at Juniors? Fact check him or her quickly by buying one now!
Looking to start a podcast of your own?
Get a free month with Libsyn by using the promo code MTO when you sign up. You'll get the remainder of the month from when you sign up as well as the next month free. It'll be enough time to kick the tires and lights some fires.