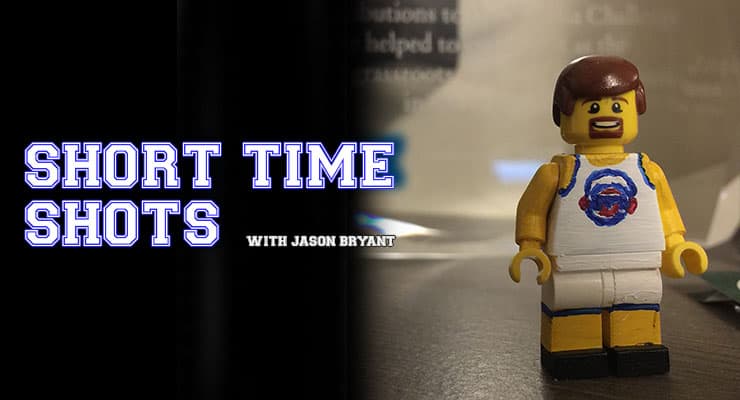 Podcast: Play in new window | Download | Embed
Subscribe to this show via: Apple Podcasts | Google Podcasts | RSS
Sunday, Sunday, Sunday – The Monsters of Mash, the Crushers of Crash coming to Civic Auditorium. FANS, meet the Nitro Girls. KIDS, meet SpongeBob SquarePants. You'll see the five-story car-crunching monster CAR ZILLA not to mention monkey-driven, rocket-powered JET CARS! $5 buys a seat, but you'll only need the edge — plus ticket, title, license and service charge.
Yes, I've done that a time or two. My friend Nate calls that "Twinkie announcer voice," it's basically when I go so over the top like a monster truck commercial combined with my penchant for just announcing everything I do. One of my college roommates told me once that he knew I'd be good at broadcasting, because he said I narrated everything I did. "Looking for my shoes, my keys are over there." Jeff Palmer, miss you man.
As for me, I'm Jason Bryant, your monster-truck talking, podcast-producing Hall of Fame jack of all trades and this is Short Time Shots, a look back at the happenings in college wrestling for November 26, 2017.
While I focus mostly on the college side of things here on this particular version of Short Time, Richie Lewis, the 732 Savage, goes out to Poland and he'll bring a U23 World Championship back to New Jersey. He picked up the gold at 70kg in a day that finally saw the U.S. win some medals. Joey McKenna and Ty Walz also came home with bronze medals. McKenna, as most, if not all of you know, is at Ohio State, while Walz Is on staff at Virginia Tech.
NOW, to the duals. That's duals with an A, not with an E, as someone asked on Facebook just the other day.
We start in Fargo where third-ranked Oklahoma State mauled North Dakota State 40-3. The Cowboys saw two-time NCAA champion Dean Heil win his 100th career match with a tech fall over Nico Colunga at 141 pounds. Six Cowboys scored bonus points, including a fall from Kaid Brock at 133 and Keegan Moore at 184. Andrew Marsden picked up a first-period technical fall at 197 pounds. Oklahoma State improved to 3-0, 1-0 in the Big 12 while North Dakota State fell to 0-3.
Fourth-ranked Missouri survived a scare in Charlottesville as the Tigers needed a win from heavyweight Austin Myers to pick up the 18-15 win over Virginia. Missouri wrestled without All-Americans Jaydin Eierman, who didn't make the trip and Willie Miklus, who dinged up his knee in Saturday's pin over Virginia Tech's Jared Haught. Of note, Louie Hayes knocked off Barlow McGhee 4-1 at 125 and Jack Mueller has shown zero problems moving up to a new weight class. The Texas native topped Missouri's John Erneste 9-2 at 133. Both teams won five, but it was bonus points from Joey LaVallee, Daniel Lewis and Canten Marriott that allowed the Tigers to survive their trip through the Commonwealth.
No. 12 Arizona State won the last five to pull away from No. 16 South Dakota State 25-13 in Tempe. The Jackrabbits led 13-7 halfway through, but wins by Josh Maruca, Josh Shields, Anthony and Zahid Valencia clinched the win, while Kordell Norfleet's win over Brady Ayers at 184 in the dual's final bout was the icing on the cake. Zeke Jones likes cake. I know this. I worked with Mr. Larry for three years. It takes him forever to order it, and usually he gets his assistant to do it for him.
No. 22 Rider ended up with a split on its jaunt to Iowa. After getting hammered in Carver-Hawkeye on Friday night, coach John Hangey picked up his first win as the head coach of the Broncs with a 22-15 win over Iowa State in a dual held ON A STAGE at Stephens Auditorium. Kevin Dresser brought the whole theater thing out to Ames. Only real surprise there came at 133 pounds where Anthony Cefolo pinned Iowa State's Ian Parker in the first period. Cefolo was beaten on Friday night by unheralded Phillip Laux 5-1. From the Cyclone perspective, freshman Kanen Storr had a solid 11-6 win over Tyson Dippery at 141.
That's all for the ranked stuff, but down tobacco road, North Carolina stopped Appalachian State 30-6. Dalton Macri made his first appearance at 125 pounds for the Heels and picked up a 12-3 major decision in the process. Best individual result there was All-American Ethan Ramos' 12-2 major decision at 174 pounds over Forrest Przybysz (that's Pribish, if you're reading this).
Binghamton swept the Hoosier Duals at Indiana, beating Eastern Michigan 28-13, Division II Indianapolis 35-7 and host Indiana 29-6. Binghamton, which just got beat 40-2 by Penn State, won eight out of 10 weights on the road, against a Big Ten team. The Bearcats' Joe Nelson had a 9-7 win over NCAA qualifier Elijah Oliver, who continues to struggle here in the early going.
And remember folks, from now until December 6, all current team members of the Mat Talk Podcast Network and all NEW patrons will be entered into a drawing to win a $150 prize pack from Compound Team Wear and my man Cliff Fretwell. All you need to do is contribute to this network with a monthly drop in the bucket – $1, $5, whatever – at mattalkonline.com/jointheteam. You'll get a cool swag bag already, which is already done magnificently by Compound, but you can get more free gear as well. That offer runs until December 6, 2017. If you like this program or any program on the network, hit us up at mattalkonline.com/jointheteam and do that whole Small Business Saturday, Cyber Monday and Giving Tuesday in one shot.
As for now, remember, kids seats still just five bucks.
The Short Time Time Wrestling Podcast is proudly supported by Compound Clothing.
And if you haven't already, leave a rating and a review on iTunes.
SUBSCRIBE TO SHORT TIME
Apple Podcasts | Stitcher | Spreaker | iHeartRadio | TuneIn Google Play Music | iOS App | Android App | RSS
GET DAILY WRESTLING NEWS!
You like wrestling news, right? Of course you do. Did you know you can sign up for FREE to subscribe to the Mat Talk Online DAILY WRESTLING NEWS e-mail newsletter that's published EVERY morning with the previous day's top news stories from outlets all around the globe. It's free and it's a great way to start your wrestling day.
Almanac Time!
Get the Cadet & Junior Nationals All-American Almanac, a 250-page digital download. It's available now and if you use the promo code "JB" you'll save $5 off the cover price. It's got every All-American EVER in Fargo (and the locations that were before Fargo) and every breakdown by year and state. Oh, you know this guy who says he placed at Juniors? Fact check him or her quickly by buying one now!
Looking to start a podcast of your own?
Get a free month with Libsyn by using the promo code MTO when you sign up. You'll get the remainder of the month from when you sign up as well as the next month free. It'll be enough time to kick the tires and lights some fires.