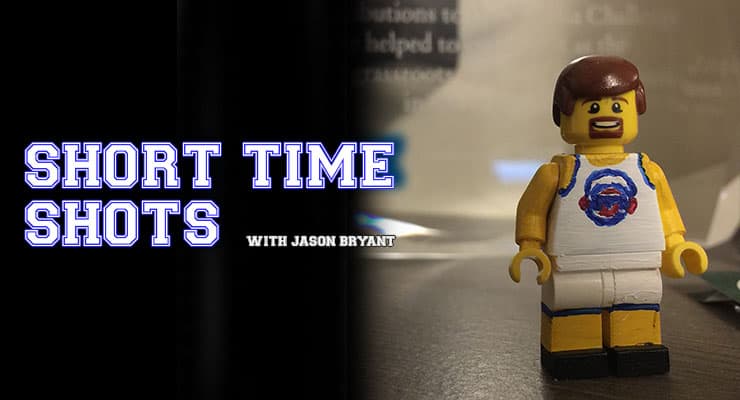 Podcast: Play in new window | Download | Embed
Subscribe to this show via: Apple Podcasts | Google Podcasts | RSS
When does dissecting pigs become a topic of Thanksgiving dinner? When you live in Minnesota! I'm Hall of Fame announcer, writer and broadcaster Jason Bryant and this is Short Time Shots by the Mat Talk Podcast Network, a daily look at scores and more from the world of college wrestling. More about the pigs just a bit later.
Wednesday tried to be pick on Division III day as a couple of Division II schools beat area rivals from the non-scholarship level of Division III. Out near me, at least in the soon-to-be frozen tundra, Mary beat Concordia of Moorhead 33-12, while UW-Parkside, a D2 school, beat UW-Stevens Point 35-6.
Mary, ranked 23rd in Division II, set the tone early earning bonus points in the first four bouts of the night over the Cobbers, FEAR THE EAR. Concordia is ranked 21st in Division III.
Sidenote: Division II Limestone beat Division I Davidson on Tuesday night.
Another Sidenote: I mentioned on one of the recent shows that my niece Ashley is a freshman at Concordia. Well, let me give you this little story. She was talking to our family during Thanksgiving about one of her bio labs and specifically her lab partner. No names here, but anyway, she said she was dissecting a pig — it is Minnesota folks — and she cut too much into the stomach and the contents of the pig decided to squirt out — on to her lab partner. Since Ashely was doing most of the work anyway due perceived queasiness, it should come as no surprise that said lab partner decided to puke right there.
No worries dude, it's the innards of a pig shooting across the room at you. I might have yacked too.
It wasn't all sunshine and Tony Ramos for Division II on Wednesday though as Scranton, a Division III school in, you guessed it, Scranton, Pennsylvania, beat Division II East Stroudsburg 21-16. The Royals won the last three bouts of the dual to rally from a 16-12 deficit. The match-clincher came at heavyweight where freshman William Oxley topped Hunter Marhan 7-4.
In a Commonwealth matchup, meaning the Commonwealth of Virginia, Southern Virginia beat Hampden-Sydney 54-0 in a dual between two new-ish programs. Southern Virginia has fielded a program for over 15 years, but they finally became a school-sponsored varsity team a few years ago. This is the first year they are postseason eligible as the school reclassified to Division III. Hampden-Sydney is still struggling with numbers, but first-year head coach Chris Conkwright will eventually get things working in Farmville. Yes, Hampden-Sydney College is just outside Farmville, Virginia NOT the game on your phone.
Kansas Wesleyan beat Ottawa 26-24 as coach Matt Oney and his squad won the school's first dual meet in history on Wednesday. Tanner O'Donnell's first-period fall at 197 pounds iced it for the Coyotes.
Reinhardt picked up four forfeits and two falls, including an 18-second fall from Garrett Klinger at 165 pounds to beat Truett McConnell in an Appalachian Athletic Conference matchup. The NAIA moved from regions or groups to conferences for qualifying this season. The AAC is sponsoring wrestling for the first time, much like many of the other NAIA conferences.
In the JUCO ranks, Iowa Lakes beat NIACC 34-15. The Laker s, yes, a very original nickname, picked up falls from Anthony Fisher, Sangobunmi Smith and Brady Brott along the way.
In other news makers from Wednesday, Lakeland University in Plymouth, Wisconsin announced it would be starting women's wrestling as a varsity sport in 2018-19. That will bring the number of new women's college programs starting up next season to six. Nassau Community College was set to start next year, but they've got two women wrestling this season as featured by Newsday, a Long Island paper, last week. Lakeland joins Tiffin and Schreiner as three NCAA schools that have recently announced they're starting programs next year.
The pre-seeds are out for the 36th annual Cliff Keen Las Vegas Invitational. You can find them on Flowrestling or a link to that story in the daily wrestling newsletter that will hit the inbox on Thursday morning. What? You don't know what this free daily newsletter is? Well it's the previous day's top stories, key scores and news from around the world. You can sign up for free at mattalkonline.com/news.
The #GivingTuesday promotion is going beyond Tuesday, in fact, it's running until December 6. If you become a team member or patron of the Mat Talk Podcast Network, you'll be entered into a drawing to win a $150 prize pack courtesy of Cliff Fretwell and his crew at Compound Clothing. New team members will be eligible to win another surprise, but every current patron, new and old, is eligible for the prize pack. You can sign up to be a patron and contribute to this network at mattalkonline.com/contribute. Would like to thank Brian Solo, Denny Diehl, Mark Williamson, Mike McCormick and Jack Childs for their recent contributions to the network.
Late breaking as I record this — Kyle Snyder is the USOC's male Olympic Athlete of the Year and Bill Zadick is the USOC's Olympic Coach of the Year. U-S-A, U-S-A! Details on themat.com.
Now don't go disectin' them pigs without safety goggles and a strong stomach.
JOIN THE TEAM
And if you're a fan of the extensive and broad-based reach of the shows on the Mat Talk Podcast Network, become a TEAM MEMBER today. There are various levels of perks for the different levels of team membership. If you like wrestling content — scratch that — if you LOVE great wrestling content, consider becoming a team member. You'll get some cool stuff too.
The Short Time Time Wrestling Podcast is proudly supported by Compound Clothing.
And if you haven't already, leave a rating and a review on iTunes.
SUBSCRIBE TO SHORT TIME
Apple Podcasts | Stitcher | Spreaker | iHeartRadio | TuneIn Google Play Music | iOS App | Android App | RSS
GET DAILY WRESTLING NEWS!
You like wrestling news, right? Of course you do. Did you know you can sign up for FREE to subscribe to the Mat Talk Online DAILY WRESTLING NEWS e-mail newsletter that's published EVERY morning with the previous day's top news stories from outlets all around the globe. It's free and it's a great way to start your wrestling day.
Almanac Time!
Get the Cadet & Junior Nationals All-American Almanac, a 250-page digital download. It's available now and if you use the promo code "JB" you'll save $5 off the cover price. It's got every All-American EVER in Fargo (and the locations that were before Fargo) and every breakdown by year and state. Oh, you know this guy who says he placed at Juniors? Fact check him or her quickly by buying one now!
Looking to start a podcast of your own?
Get a free month with Libsyn by using the promo code MTO when you sign up. You'll get the remainder of the month from when you sign up as well as the next month free. It'll be enough time to kick the tires and lights some fires.