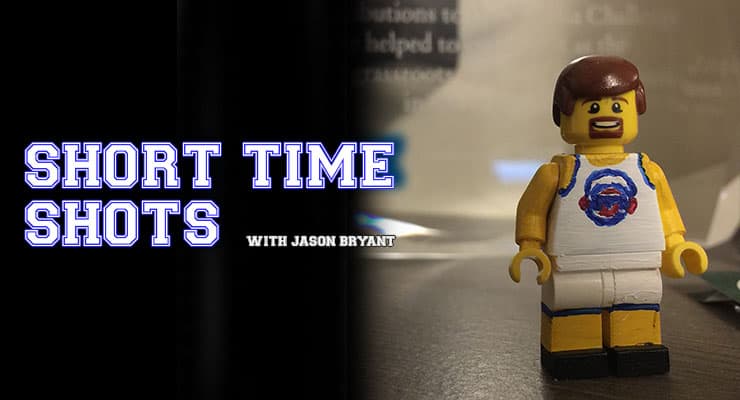 Podcast: Play in new window | Download | Embed
Subscribe to this show via: Apple Podcasts | RSS
NO MORE BEARDS! Oh who are we kidding. It's Minnesota and the beard is like standard issue. I can at least get rid of the neck beard. That catches on all the zippers. But this isn't a show about grooming, it's about wrestling. It's Short Time Shots, a look at the day's notable news and results from the world of college wrestling, I'm your scribe and not-so-humble host Jason Bryant.
At three different points tonight, my wife Abby, who is completely awesome, had to pull me away from my tablet where I was watching the dual between NC State and Old Dominion. Yes, I am an ODU graduate and yes, I make sure I mark time off on our calendar to watch ODU football and wrestling duals that are on my various subscription services. Tonight, the girls, Lucy and Ruby, were decorating the tree. I was helping out, but at points during the tree decorating, I was crouched and going through level changes watching the dual. Hey, I call things down the middle when I'm on work time, but when I'm on my own time, there's no secret where I went to school.
No. 6 NC State topped ODU 25-15 with three straight bonus victories at the final three weights to pull away from the Monarchs. While the Pack were favored to start with, the momentum swung at 157 pounds where Hayden Hidlay got up 4-0 quickly on Larry Early and earned a 13-5 major decision. That win crippled any hopes of a Monarch upset. Pete Renda and Michael Macchiavello earned techs and Malik McDonald earned a major decision to finish off the Monarchs for the host Wolf Pack.
In Division II, No. 1 St. Cloud State trounced rival Southwest Minnesota State 39-4. Top-ranked Brett Velasquez earned a technical fall at 125 pounds while Larry Bomstad, ranked No. 1 at 157 also picked up a technical fall. Coach Steve Costanzo's Huskies have only lost seven duals since 2010. What's that exactly? They've won 131 out of their last 138 duals.
In an all-West Virginia matchup, Wheeling Jesuit rallied to win the last six bouts and beat West Liberty 29-12. The Cardinals had four of those six wins via bonus including a fall at 197 pounds by Sawyer Leppla. West Liberty did have one notable win, Darius Bunch upset two-time All-American Dustin Warner 9-3 in sudden victory at 125.
Minnesota State rocked Division III St. John's 36-9 in an all-Minnesota dual, donchaknow.
In Division III, 13th-ranked Central dropped only two bouts en route to a 28-12 victory over Augustana — the one in Illinois.
In other action
Lourdes split 5-5 with Adrian but a forfeit and two falls were enough to give Lourdes a 24-18 win over the Bulldogs on Thursday. William Penn topped Truman State 27-22 in a D2-NAIA scrap. William Penn's mascot? The Statesmen! Remember that show The State that was on MTV? Nah, not many do. It was funny. Not Kids in the Hall funny, but still amusing.
Keeping it the NAIA, Andrew Nicola's Concordia (of Nebraska) Bulldogs shutout Dakota Wesleyan 55-0 in GPAC action. Midland won the last two bouts to rally past Doane 25-17 in another GPAC dual. That's Great Plains Athletic Conference in case you're wondering. Yes, you were wondering. Oh, we're not done yet — Northwestern College, the RED Raiders who are from Orange City, Iowa topped Briar Cliff 19-17. Briar Cliff's bonus points made it close but Northwestern won six of the 10 bouts for the win.
Lindenwood-Belleville won eight of 10 and beat Central Baptist 40-9 in an American Midwest matchup, while second-ranked Missouri Valley dispatched with Benedictine 40-3 in a Heart of American Conference dual. Top matchup there came at 165 pounds where third-ranked T.J. Barnes beat No. 9 Josh Romero 4-3.
That's what's happening in college wrestling on November 30, 2017. Be sure to check out our promotion and drawing to win a $150 gift pack from Compound Clothing and CMPTeamWear.com. All you have to do is become a team member of the Mat Talk Podcast Network by going to mattalkonline.com/contribute and helping spread the word of the original, on-demand wrestling content you're hearing on the Mat Talk Podcast Network.
All these scores and more can be found at almanac.mattalkonline.com and of course, hit us up with a rating and a review on Apple Podcasts, formerly known as iTunes at mattalkonline.com/getshorttime.
OH, did you know we're on Spotify now? Yes, the Short Time Wrestling Podcast is on SPOTIFY. One caveat though, it's only on the app search and not on the web. Yes, I know, that's wonky, but hey, I didn't develop the platform.
Go shave everyone, it's December.
JOIN THE TEAM
And if you're a fan of the extensive and broad-based reach of the shows on the Mat Talk Podcast Network, become a TEAM MEMBER today. There are various levels of perks for the different levels of team membership. If you like wrestling content — scratch that — if you LOVE great wrestling content, consider becoming a team member. You'll get some cool stuff too.
The Short Time Time Wrestling Podcast is proudly supported by Compound Clothing.
And if you haven't already, leave a rating and a review on iTunes.
SUBSCRIBE TO SHORT TIME
Apple Podcasts | Stitcher | Spreaker | iHeartRadio | TuneIn Google Play Music | iOS App | Android App | RSS
GET DAILY WRESTLING NEWS!
You like wrestling news, right? Of course you do. Did you know you can sign up for FREE to subscribe to the Mat Talk Online DAILY WRESTLING NEWS e-mail newsletter that's published EVERY morning with the previous day's top news stories from outlets all around the globe. It's free and it's a great way to start your wrestling day.
Almanac Time!
Get the Cadet & Junior Nationals All-American Almanac, a 250-page digital download. It's available now and if you use the promo code "JB" you'll save $5 off the cover price. It's got every All-American EVER in Fargo (and the locations that were before Fargo) and every breakdown by year and state. Oh, you know this guy who says he placed at Juniors? Fact check him or her quickly by buying one now!
Looking to start a podcast of your own?
Get a free month with Libsyn by using the promo code MTO when you sign up. You'll get the remainder of the month from when you sign up as well as the next month free. It'll be enough time to kick the tires and lights some fires.