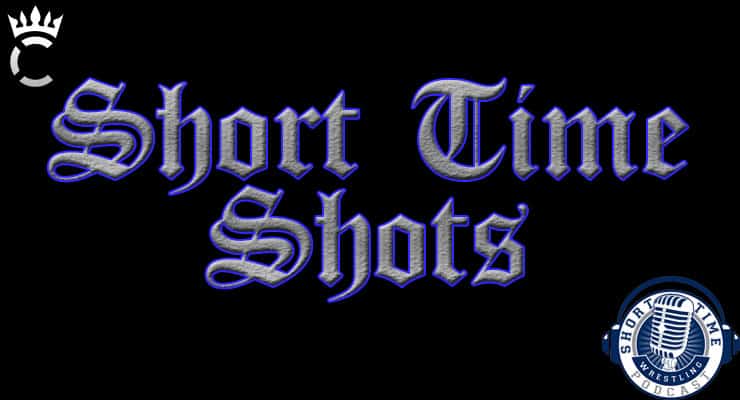 Podcast: Play in new window | Download | Embed
Subscribe to this show via: Apple Podcasts | Google Podcasts | RSS
Hey wrestling fans, it's a Short Time wrestling minute giving you a quick breakdown of the happenings on the mats from November 15, 2017. I'm Jason Bryant and I like the movie Better off Dead.
This was the format that originally started Short Time, but now I'm bringing it back. Maybe not every single day, but each morning when I can, I'm going to rock out some notable things you should be paying attention to in college wrestling. Or just wrestling in general.
First, we start with the Ladies as second-ranked Campbellsville saw its senior night be a success as the Tigers knocked off the University of the Cumberlands 31-12. The Tigers are now 10-0 on the season.
A few notables in Division III, first in a Keystone State battle, Elizabethtown upended #14 York College of Pennsylvania 22-19. The match came down to heavyweight where Erik Ekstein's takedown with 19 seconds to go broke a 1-1 tie and gave him and the E-Town Blue Jays the win. A big E-Town victory came at 149 pounds where Joe Ghione topped All-American Gregory Warner 7-4.
Also in Division III, Joe Norton's North Central Cardinals knocked off #18 Augustana College 24-15, spoiling the debut of new Vikings head coach Tony Willaert. Also, this is the Augustana in Illinois. The one in South Dakota is now Augustana UNIVERSITY. They both ? are still the Vikings.
A pair of top-ranked teams also cruised. Keeping it in Division III, Warburg won its 198th Iowa Conference Dual in a row in beating the Storm of Simpson 38-10. McKendree, #1 in Division II, pounded NAIA Missouri Baptist 42-6.
And speaking of the NAIA, Grand View is ranked #1 for the 40th straight week. Yes, 4-0.
Penn State Behrend, a brand new Division III program in Erie, dropped its opener 23-21 to Thiel College on Wednesday.
And the annual outdoor dual between Division II Belmont Abbey and NAIA St. Andrews went the way of Belmont Abbey 33-12 on Wednesday afternoon. The Crusaders won seven out of 10 to cruise ? get it ? to the win.
All the scores and schedules and standings can be found on mattalkonline.com and clicking the scoreboard icon on the top right of the page or by going to almanac.mattalkonline.com
As always, your support is appreciated by going to our Patreon page and joining our team of supporters. Your contribution helps us produce original on-demand wrestling content for the wrestling community and its fans. A dollar, two or 10. It doesn't matter – Join the team and contribute at mattalkonline.com/jointheteam
JOIN THE TEAM
And if you're a fan of the extensive and broad-based reach of the shows on the Mat Talk Podcast Network, become a TEAM MEMBER today. There are various levels of perks for the different levels of team membership. If you like wrestling content — scratch that — if you LOVE great wrestling content, consider becoming a team member. You'll get some cool stuff too.
The Short Time Time Wrestling Podcast is proudly supported by Compound Clothing.
And if you haven't already, leave a rating and a review on iTunes.
GET DAILY WRESTLING NEWS!
You like wrestling news, right? Of course you do. Did you know you can sign up for FREE to subscribe to the Mat Talk Online DAILY WRESTLING NEWS e-mail newsletter that's published EVERY morning with the previous day's top news stories from outlets all around the globe. It's free and it's a great way to start your wrestling day.
SUBSCRIBE TO SHORT TIME
Apple Podcasts | Stitcher | Spreaker | iHeartRadio | TuneIn Google Play Music | iOS App | Android App | RSS