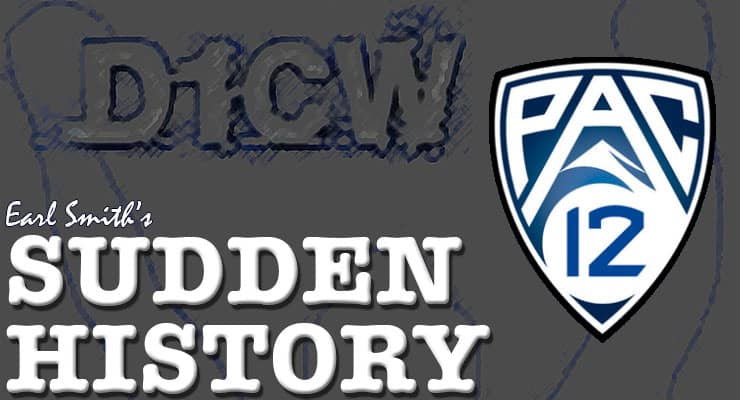 Podcast: Play in new window | Download | Embed
Subscribe to this show via: Apple Podcasts | Google Podcasts | RSS
This week's episode of Sudden History will take us cross country to the West Coast, as we cover the Pac-12. This is a conference that is changing rapidly. Three of the six schools will feature new head coaches. Sudden History was able to speak to two of these new head coaches and a assistant from the third school.
The podcast will start with Cal Poly's new head coach Jon Sioredas. Jon explains what brought him to San Luis Obispo and how his number one priority has been building relationships with the Mustang wrestlers and his coaching staff.
Next up is CSU Bakersfield Associate head coach Jeff Silveira. Coach Silveira was at Bakersfield for two season prior to Manny Rivera getting the head coaching position and has retained his role. He enlightens Sudden History on a newfound commitment to the wrestling program from the school.
We have another Associate head coach on board, this time Oregon State's Kevin Roberts. He is candid about the Beavers team and how they have struggled to maintain a top ten NCAA finish after doing so twice in 2012 and 2013. Coach Roberts also details the changes made in the OSU coaching staff in the off-season.
A semi-new face is Boise State's new head coach Mike Mendoza. Coach Mendoza is not new to the conference, as he was previously the head man at CSU Bakersfield. He talks about trying to bring Boise State back to their glory years when current assistants Levi Jones and Andrew Hochstrasser were competing.
Finally, we finish with Stanford head coach Jason Borrelli. The Cardinal continue to recruit well and have a team with depth throughout the lineup and will finally try to unseat Oregon State atop the conference.
Subscribe to Sudden History
iTunes | Stitcher | Spreaker | SoundCloud | Google Play Music | RSS