Spartan Race's Joe De Sena and NCAA Managing Director of Championships Anthony Holman – OTM601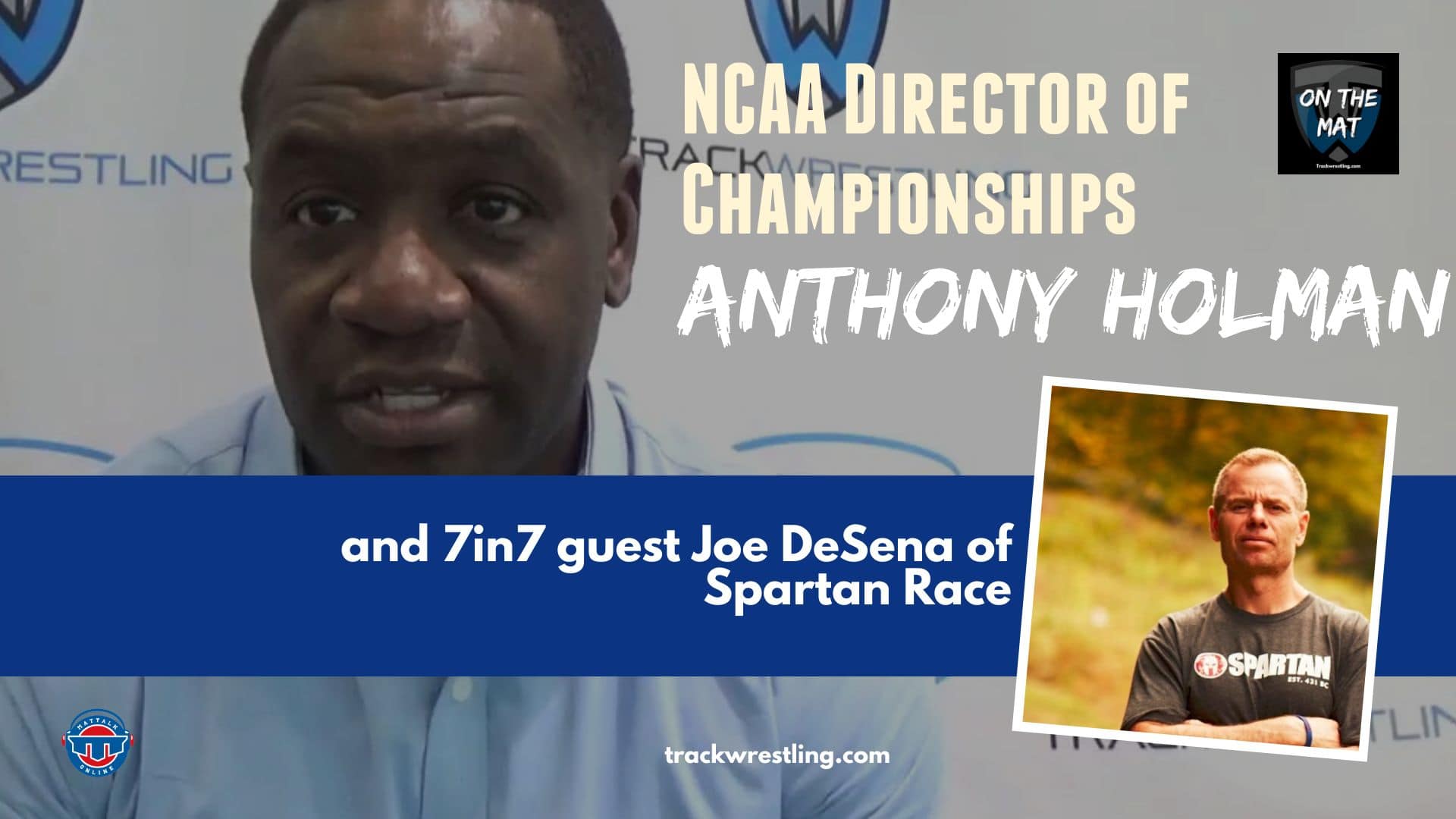 NCAA Managing Director of Championships Anthony Holman and Spartan Race's Joe De Sena Go On The Mat
Anthony Holman, the NCAA's Managing Director of Championships and Joe De Sena, the man behind the Spartan Race will go On The Mat this week. Holman will touch on topics related to the upcoming 2020 NCAA Division I Wrestling Championships at U.S. Bank Stadium, while De Sena is tied to wrestling in a couple of different areas and will be a guest at the Trackwrestling/JROB kickoff party on Wednesday night prior to the championships. Join Andy Hamilton and Kyle Klingman as they talk to our guest and topics related to the recent happenings in and around wrestling.
Show Segments
1:40 – Klingman goes with a Police Squad reference.
2:45 – Andy is pissed about the Astros cheating scandal.
3:30 – Is Stephen Neal the greatest two-sport athlete?
7:20 – Wrestling has amnesia – Loras beats Wartburg
11:00 – Being a prisoner of the moment (Kyle uses the term "throw shade")
14:45 – Iowa never lets themselves get out of contention
17:40 – Previewing today's guests
18:00 – Busy week on Trackwrestling
21:00 – Kyle Snyder and J'den Cox
23:40 – Joe De Sena Interview
45:00 – 7in7 Preview and De Sena recap
46:30 – Previewing the Holman interview
51:10 – Anthony Holman Interview
1:16:50 – Show Wrap
7in7 NCAA Kickoff Party
We'd like to let our listeners know about an NCAA Kickoff Party called "7 in 7" that will be co-hosted by Trackwrestling and JROB Intensive Wrestling Camps on Wednesday, March 18 at The Barn at Cowboy Jack's in Downtown Minneapolis. Emceed by Big Ten Network commentator Shane Sparks, the event will feature 7-minute interviews with 7 high-profile guests from the wrestling community. Dan Gable is the first booked guest, and more will be announced soon. Tickets are $15, and proceeds from the event will be donated to TakeDown Cancer. A limited number of tickets are available, so visit 7in7party.com soon to reserve your spot.
SUPPORT THE SHOW
And if you're a fan of the extensive and broad-based reach of the shows on the Mat Talk Podcast Network,
become a TEAM MEMBER today
. There are various levels of perks for the different levels of team membership. If you like wrestling content — scratch that — if you LOVE great wrestling content, consider becoming a team member. You'll get some cool stuff too.
Looking to start a podcast of your own?
Get a free month with Libsyn
by using the promo code MTO when you sign up. You'll get the remainder of the month from when you sign up as well as the next month free. It'll be enough time to kick the tires and lights some fires.